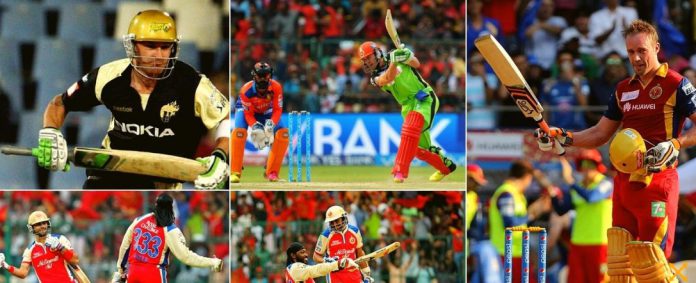 The T20 format that came into its own 15-16 years ago wouldn't have imagined that an individual century is possible within 20 overs. But such has been the pace at which the game has evolved that it no longer remains a surprise.
Batsmen keep scoring centuries for fun. It is not different in the IPL. Teams with batsmen scoring centuries more often than not end up winning. Batters batting for a long time at an incredible strike rate is a dream combination. It is what brings in high individual scores.
We look at the 5 highest individual scores in IPL history:
#5 KL Rahul (132*)
There is absolutely no love lost between KL Rahul and his former franchise, RCB. KL Rahul brings out his A-game against RCB. On a flat Dubai wicket in IPL 2020, Rahul went bonkers against Bengaluru. He singlehandedly out-batted RCB from the contest. It was as good a captain's knock as any in the IPL. KL Rahul remained not out on 132 off just 69 balls at a strike rate of 191.30. The knock comprised 14 boundaries and 7 sixes. 98 runs came through boundaries alone. It was a knock of authority from the former Punjab captain.
#4 AB de Villiers (133*)
The RCB talisman notched up a scintillating hundred against one of the better bowling sides in the league. On a batting beauty at Wankhede in Mumbai, AB de Villiers smashed one of the best T20 centuries of all time. He was in supreme control of his craft. ABD scored 133 off just 59 balls striking at 225.42. He scored 100 runs through just boundaries (19 fours, 4 sixes). It remains the highest score for a batter batting at number 3.
#3 Quinton de Kock (140*)
It was the highest score in IPL 2022. Quinton de Kock put on a show against Kolkata Knight Riders at the DY Patil stadium. He had a middling tournament up until then. This inning took him to another level. He was aggressive right from the onset and took it a notch higher in the end overs. Kock remained unbeaten on 140 off just 70 balls striking exactly at 200. He scored 100 runs through just boundaries (10 fours, 10 sixes).
#2 Brendon McCullum (158*)
It was this inning that laid the foundation for the IPL. Brendon McCullum went berserk at the Chinnaswamy stadium on the opening night of the IPL. It was his fireworks that turbocharged IPL's presence as a global phenomenon. McCullum smashed hapless RCB bowlers to all parts of the ground. In a team score of 222, McCullum scored an undefeated 158 off 73 balls at a humongous strike rate of 216.43. The knock contained 10 fours and 13 sixes (118 runs in boundaries). It was a sign of things to come.
#1 Chris Gayle (175*)
It was a day when Christopher Henry Gayle switched on the beast mode. He went after the Pune bowling in a disdainful manner. There is something about the Chinnaswamy stadium that two of the highest scores were brought up at this venue. Gayle broke a plethora of records in this innings.
He brought up his hundred off 30 balls, a record that is yet unbroken. He finally ended up with a score of 175 not-out in mere 66 balls. His strike read a mind-boggling 265.15! Gayle scored 13 boundaries and 17 sixes amounting to 154 runs in boundaries. These numbers remain insane even after almost a decade of T20 carnage!