Odisha Jaguars will be up against Odisha Pumars in Match 21 of the Odisha Cricket League 2020-21. ODJ vs OPU is scheduled to be played at the Barabati Stadium in Cuttack on Wednesday, January 6 at 3:30 PM IST. Here are ODJ vs OPU Dream11 predictions, ODJ vs OPU Dream11 preview, ODJ vs OPU Dream11 squads, and predicted XI.
Also Read | 5 Best Wicket-Keepers In The World Currently
ODJ vs OPU Dream11 predictions: Preview
Odisha Jaguars have faced defeat in five of their last six league games in the tournament so far. They are currently in the last spot of the points table. The Jaguars will have to clinch a win in all their games henceforward if they want to stand a chance in qualifying for the knock-out stage of the tournament.
As for Odisha Pumas, they have maintained a decent record in the league so far. They have managed to win four games so far, with two losses to their name in the season. The Pumas have a good chance to qualify for the semi-finals if they ride on their positive momentum. Odisha Pumas cruised past Odisha Jaguars in the reverse fixture this season.
ODJ vs OPU Dream11 predictions: Team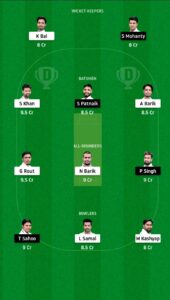 ODJ vs OPU Dream11 predictions: Full Squads
Odisha Jaguars: Lagnajit Samal, Girija Rout, Rashmi Sahoo, Sunil Sahoo, Shamsul Khan, Kshyama Bal, Sandeep Chauhan, Nihar Bhuyan, Manoj Kashyap, Bibhu Mallick, Nirbishankar Barik, Anwesh Das, Rahul Choudhary, Dibya Das, Abhijit Barik.
Odisha Pumas: Kameshwar Barik, Dhiraj Singh, Aravinda Singh, Tukuna Sahoo, Pratik Anurag Das, Abhinash Nayak, Prayash Singh, Prasantha Rana, Sandeep Patnaik, Jitendra Thapa, Badal Nishad, Soubhagya Mohanty, Purnachandra Majhi, Illu Gochhayat, Pravin Tirkey, Debashis Mahakud.
Also Read | 5 Most Controversial Cricket Coaches
ODJ vs OPU Dream11 predictions: Predicted XI
Odisha Jaguars: Bibhu Mallick (wk), Shamsul Khan, Girjia Rout (c), Nirbishankar Barik, Lagnajit Samal, Kshyama Bal, Abhijit Barik, Manoj Kashyap, Rahul Choudhary, Rashmi Sahoo, Sandeep Chauhan
Odisha Pumas: Illu Gocchayat, Sandeep Pattnaik, Purnachandra Majhi, Tukuna Sahoo, Prayash Singh, Aravinda Singh (c), Pratik Das, Soubhagya Mohanty (wk), Prasanta Rana, Jitendra Thapa, Dhiraj Singh
ODJ vs OPU Dream11 predictions
Our ODJ vs OPU Dream11 prediction is that Odisha Pumas will win the match.
Disclaimer: Please note that our Dream11 predictions are based on our own analysis and they do not promise fixed results.
Also Read | 5 Active Indian Cricketers Whose T20I Careers Are Almost Over