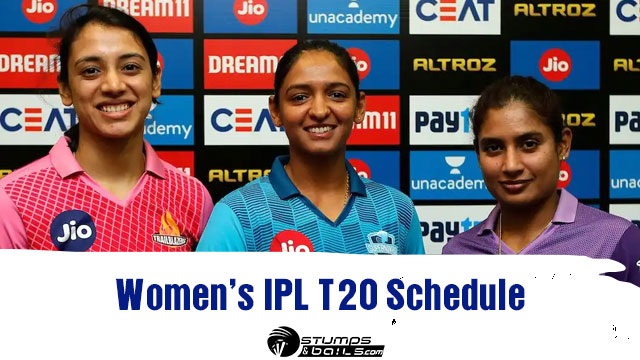 The Women's T20 challenge which is all set to start from May 23, left twitter users to think what the person who created the schedule of the 2022 Women's T20 challenge is thinking while creating the fixtures. Lets Look at Women's IPL T20 Schedule.
Just like the previous editions, the Board of Cricket Control in India (BCCI) announced a four games competition between three teams in the middle of cash-rich IPL.
Supernovas who will play their first match against Trailblazers on May 23 at 7:30 PM, have to play another game the very next day at 3:30 PM in Pune.
| | | | |
| --- | --- | --- | --- |
| Date | Time | Team | Stadium |
| 23-May-22 | 7:30 PM | Trailblazers Vs Supernovas | MCA Stadium, Pune |
| 24-May-22 | 3:30 PM | Supernovas Vs Velocity | MCA Stadium, Pune |
| 26-May-22 | 7:30 PM | Velocity Vs Trailblazers | MCA Stadium, Pune |
| 28-May-22 | 7:30 PM | Final | MCA Stadium, Pune |
The back to back game organized by BCCI that too in searing heat season made cricket followers irate over the schedule.
Some users made some comparative arguments asking why there is a discrimination among men and women cricketers, as the Indian Premiere League tournament, which is going on for the last 2 months, having a proper schedule.
The users termed the BCCI's approach of being a sure shot gap between team's fixtures, allowing them to take a complete rest, which is lacking in the schedule for Women's IPL T20.
So the question of twitter users is what could have gone so wrong in scheduling four-day tournament?
Here are some of the reactions on the issue.
I'd like the BCCI to tell one of the 10 men's teams to play one match at 7:30 pm and the next at 3:30 pm the next afternoon. All this in end May in Pune!
Thanks @Rahulm2604. https://t.co/8C8owGvLfa

— Joy Bhattacharjya (@joybhattacharj) May 18, 2022
2 matches within 24 hrs, that too in hot summer🥵🥵. This is really pathetic scheduling from @BCCI when there is lot of talk about women's ipl around the corner. Don't organise just for the shake of money, take it serious too. #WomensT20Challenge #IPL2022#CricketTwitter

— celestial_sphere (@civil_engg2021) May 18, 2022
If you don't want women cricket , then please don't organize it. This is terrible schedule. Learn from WBBL in Australia. Can men play two matches within 20 hours?

— Dhiraj Srivastava (@Dhiraj_Ruler) May 18, 2022
However, it is not the first time that back-to-back games are scheduled for a same team, as in the 2020 edition, the Mithali Raj-led side played on consecutive days. They won their first game by 5 wickets, but were bowled out for just 47 runs and lost the second game by 9 wickets due to fatigue.