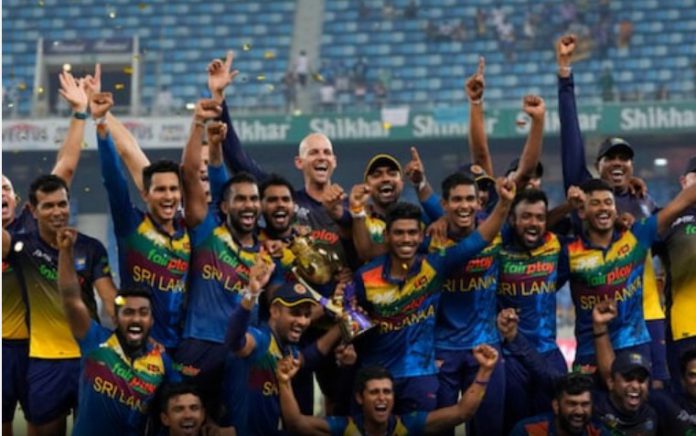 Srilanka is the new champion of the Asia Cup and even though this drink is hard to swallow for a lot, it has to be done, with pride. Srilanka has given us a classic underdog story that rose through 'literal' crises and emerged winners making everyone question their doubts on them.

While other teams were filled with superstars, Srilanka only had Hasaranga and a few additional men are present in their team to rely on. Men like Dilshan Madushanka, who has never played hard-ball cricket before and is currently playing his third T20I. Alternatively, consider Pathum Nissanka, who has never participated in a franchise T20 competition larger than the frequently postponed Lanka Premier League.

He may be Sri Lanka's most promising young batsman, and after 55 T20 matches, he has a strike rate of…110. But unlike those superstars, these players performed when it mattered. They did not rely on hard knicks, they went on to focus on basics and then played the game their seniors had taught them to play.

It is not appropriate to refer to their fielding as "hungry" when many Sri Lankans are skipping meals at home as a severe economic crisis rips apart families. It would be more accurate to say that they forced themselves to balls they shouldn't have reached because their fielding attempt was so desperate at every moment.

Sri Lanka's relentlessness transformed the most routine of cricket's three disciplines into a show that was just as exciting as Pakistan's quick bowling in the opening innings. Pakistan's horizons were encroaching as they found themselves in the teeth of a superb Sri Lankan fielding display.

They ran around the boundary quickly to avoid catches, crowded the infield to stop singles, and outright refused to allow Pakistani hitters to score runs that the batters may have believed they deserved.

But during most of the Asia Cup, Sri Lanka's cricket has been like this. They have discovered heroes where heroes should not be found, defended resolutely until the very end, and calculated routes around better-drilled, highly-decorated teams.

Sri Lanka has simply refused to give up, sometimes with amazing bravery and tenacity, like a honeybadger caught by lions battling them off. However, at other instances, they have acted like obstinate toddlers pitching a fit at the store and outright refusing to listen to reason.

The team played like a team and it is what matters in the sport that is built on the rules of companionship and backing each other. We have seen Srilanka agitated over other teams' comments on them being no biggies or players who are not 'world-class' but they fought back, with tweets but also on the field and it is all that matters.

They have dug in, resisted, defied the odds and various probability trackers, and found new ways to play the game. They won the cup and made the world to notice who they are.