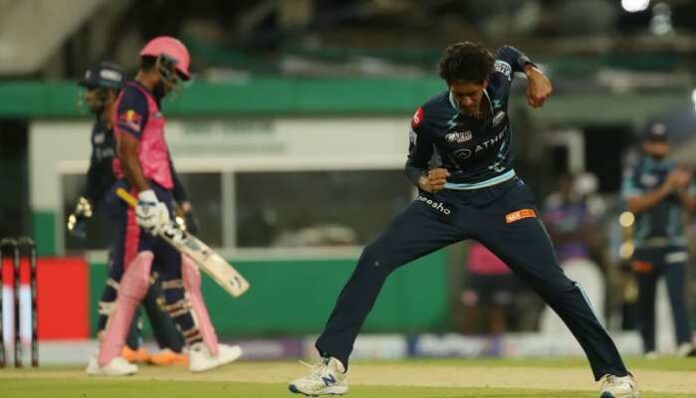 Rajasthan Royals 188/6
Gujarat Titans 191/3 (19.3/20 ov, T:189)
Titans won by 7 wickets (with 3 balls remaining)
Player of the Match- David Miller
What we saw today was nothing less than an exhilarating and complete game of cricket. Rajasthan Royals took on Gujarat Titans in the battle to reach the finale of IPL 2022. The new team to the arena, Gujarat who was in its top form since the beginning became the first team to make it place in the finals as they beat Rajasthan by 7 wickets. 
RR VS GT Match Summary 
Chasing a big score of 189, Gujarat should have come up with a game plan to ensure they don't dwindle mid-way and so they did! The team from early in the innings hit the ball hard and never let the burden of the required run rate get to them. Wade and Gill built a good partnership for 2nd wicket and didn't let bowlers take over even when they lost a wicket in the very first over. Their quick stint in the middle that gave an apt start to Gujarat was backed by Hardik Pandya and David Miller. The captain continuing his form, scored 40 off 27 while his partner in crime Killer Miller scored a very important 68 off 38.
Rajasthan's bowling looked absolutely dysfunctional in front of GT's batting. The field placement by captain Sanju Samson also raised many eyebrows as it looked out of place for the line and length being bowled. The off-side ball didn't have any player in covers or mid-off and that looked disappointing as Miller found gaps through the area in the death overs. They must keep themselves encouraged and work on their bowling as they failed to defend a good total of 189.
Rajasthan will have a lot to learn to from this game as they will next play the winner of eliminator 1 while Gujarat will take on the winner of that game in the finals to be played at their home ground in Ahmedabad. 
Sanju Samson acknowledged how his team missed the opportunity even after scoring a good total as he said "felt good to put up that kind of total as I felt the wicket was a bit sticky and there was lot of swing in the powerplay. I think we managed to put in a good score, but I think they played really well to chase the score down. It was a bit two-paced and bounce was also not even, I just went after the bowling from ball one and I got a bit lucky to get a few runs in the powerplay, but wicket was a bit tough to bat on and we finished off really well. Scoring that kind of a total on this wicket in these conditions, against that bowling attack was a great performance by our batters. We have been doing really well, the five bowlers have been our main bowlers and they have done really well throughout the tournament. Having Riyan also helps, but felt it was a bit better to bat in the second innings as it came on nicely onto the bat. We have been playing some really good cricket throughout the tournament, couple of overs here and there, couple of extra runs, couple of off-rhythm by couple of our bowlers, we will try to come back and play some good cricket. In this format luck (the toss) plays a huge role, so it all comes down to what you want to do in your control. Hoping for a good result in the next game"
The winning Captain Hardik Pandya has a lot to celebrate today but being a mature and evolving cricketer, he looked composed as he shared his views in the post match presentation where he mentioned "I have tried to balance things. Have had difficult times, certain situations, my body, bubble life. But my son and my wife, and my brother – they have played a big role. Allowed me to be neutral. (First final for Titans) Right now, I don't have much feelings. Trying to be neutral. Only thing I was very proud of is that all 23 players are different personalities. They bring different things on the table. I just told Miller that if you have good people around you, you get good things. For our team, the genuine humans we have has allowed us to do well.
I genuinely see that the boys outside the XI want the players to do well. (Conversations with international stars like Miller/Rashid and youngsters) It is all about that we respect this game. That's the conversation we had with Miller. Rashid has been fantastic throughout, but I am more proud of David. I told him 'let's respect this game.' We goofed up against Mumbai Indians, and wanted to respect the game here, even if we lose.
But wanted both of us to finish. (Batting at No. 4) As a cricketer, I have always been the kind of player who will play wherever team wants me to bat. I have not found success batting in my choice, I have found success in playing where the teams need me. We have a batting order where we need players to chip in. 20 runs can also be match winning runs. We appreciate those 10-15 runs. (Dream of winning the IPL) When we started the tournament, obviously I wanted to win. It is a dream. The four times I have reached an IPL final, I have won the tournament."
PLAYER OF THE MATCH– DAVID MILLER (68 off 38)