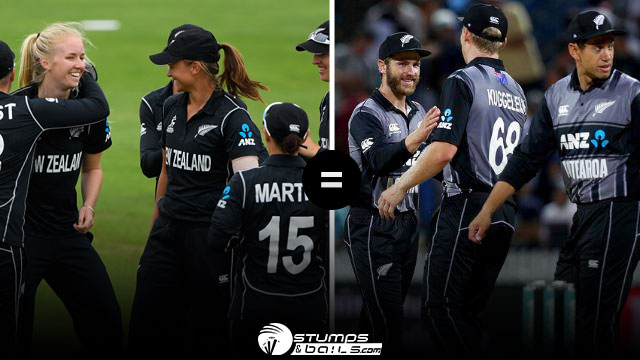 Tuesday, New Zealand Cricket (NZC) announced an equal pay structure for its men's and women's players, setting a precedent in the cricketing community. The nation's professional men's and women's cricket players now earn the same compensation for the same job on the same day, in a ground-breaking decision.

NZC, six Major Associations, and the New Zealand Cricket Players Association have agreed to a five-year contract (NZCPA). It states that domestic women's players and the White Ferns would be paid the same match fees in all forms and competitions as the men.

The deal, according to White Ferns skipper Sophie Devine, changed the game for women's cricket. "It's fantastic that domestic and international women athletes are included in the same agreement as men. It's a significant advancement that will really appeal to young ladies and girls, she added.

Kane Williamson, the captain of the New Zealand men's squad, said the sport was at an exciting period. The heritage of the players who came before us must be continued by the present players, and all levels of players, men, and women must be supported. This accord makes significant progress in that direction, he added.
Landmark day for all levels of cricket in New Zealand 🏏 #CricketNationhttps://t.co/NAcTp44cPV

— WHITE FERNS (@WHITE_FERNS) July 4, 2022
In a statement released on Tuesday, NZC acknowledged that this is the first time ever that a single agreement combining the working surroundings of men and women had been made.

This translates to a maximum annual salary of NZD 163,246 for the highest-ranked White Fern (up from NZD 83,432), NZD 148,946 (up from NZD 66,266) for the ninth-ranked White Fern, and NZD 142,346 (up from NZD 62,833) for the 17th-ranked White Fern, according to a statement from NZC.

The top-ranked women's domestic players in each Major Association would be eligible for a maximum of NZD 19,146 (an increase from NZD 3,423), followed by the sixth- and twelfth-placed players with NZD 18,646 and NZD 18,146, respectively.

The deal sees an increase in the overall number of women's domestic contracts from 54 to 72. All of these contracts are positioned as a secondary work commitment with limited requirements, allowing players to continue their full-time jobs and/or academic obligations.