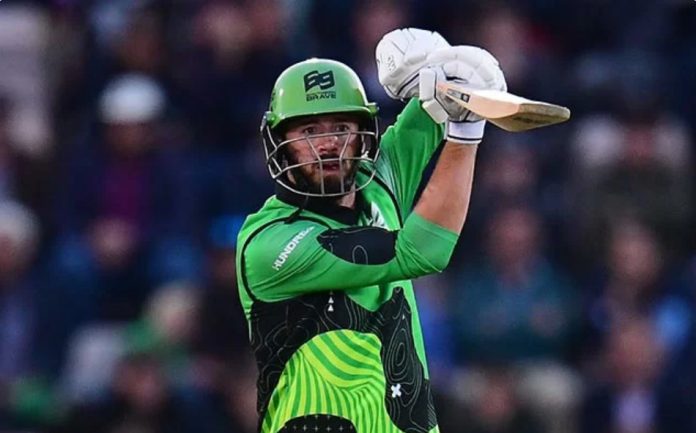 Defending champions Southern Brave start the season with an authoritative win over Welsh Fire. James Vince helped his side chase down the target in a blistering manner by scoring 71 runs from 41 balls. Welsh Fire struggled to set a target of 107 of their 100 balls. Alex Davies, James Vince, and Marcus Stoinis were enough to chase down the target under 70 balls.
Vince continued his elegant white-ball form as Southern braves started their campaign with a nine-wicket win over welsh Hearth. James was lucky enough when he was dropped on the fifth ball which made the Welsh side lose their first game of the campaign.
Vince won the toss and elected to bowl first and Hearth was only able to score 31 for 3 wickets in the 25-ball power play, Ben Duckett with his 40 runs from 31 balls, and the next highest scorer Ryan Higgins with 11 runs from 18 balls, which ended up Welsh Hearth score for just 107. Duckett tried his best to carry the team to a good score even though he survived a runout and a dropped catch, Duckett tried to dominate the batting but was only able to score five boundaries.
James was awarded the player of the match for his brilliant performance. In the post-match interview, he stated that "It was nice. The bowlers did a fantastic job to restrict them to just over 100. It was important to get a partnership going and keep the pressure on them which we managed to do. It was a complete team performance to start the tournament. Perhaps it got better under lights and we expected that to happen since it was a fresh wicket. There are a few other guys who missed out but they will have a role to play when the internationals go back on national duty. I am used to playing here like to place it in the pockets and leave the big-hitting to others", he concluded by saying "we like playing here and it is a great start tonight".
James also plays domestic cricket for Hampshire, Sydney sixers, and Quetta Gladiators, and after the retirement of Jhon Crawley in 2009 from Hampshire, James took over his position and has become a regular starter for the Hampshire side.