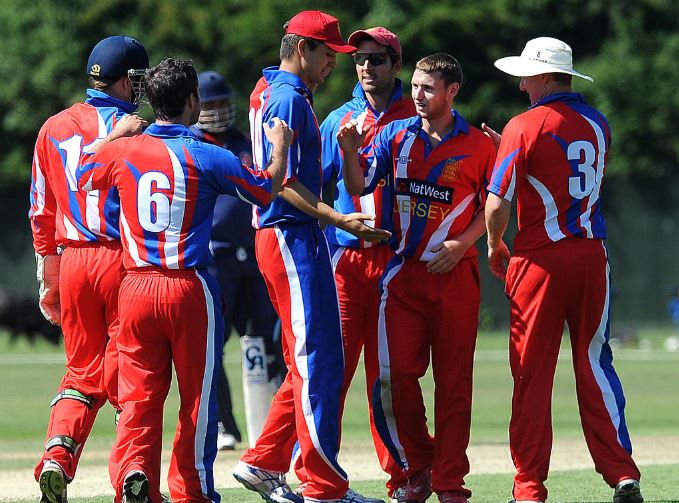 PITCH AND CONDITIONS 
This pitch at Al Amerat is a balanced pitch and is more supportive of pacers and batsmen. spinners too get slight support from this pitch.
PAARL ROCKS
Hong Kong won their first match against Bermuda by 3 wickets and 5 balls to spare.
After registering a win at the start of the tournament, they are likely to retain their playing 11.
Nasrulla Rana is expected to retain his place in the squad.
Ahsan Abbasi, Nizakat Khan and Shahid Wasif will form the top order, followed by K Shah, W Barkat, Haroon Arshad and Aizaz Khan will follow
Ehsan Khan, N Rana, Aftab Hussain, K Shah and Aizaz Khan will form the bowling attack.
PROBABLE PLAYING XI OF PAARL ROCKS
Aizaz Khan (C), Ahsan Abbasi, Haroon Arshad, Waqas Barkat, Aarush Bhagwat, Aftab Hussain, Ehsan Khan, Nizakat Khan, Nasrulla Rana, Kinchit Shah, and Shahid Wasif.
DURBAN HEAT
Jersey has started the tournament with a defeat against Uganda and is hopeful to make a comeback in this encounter.
Though Ben Stevens hit a 43 and Nick Greenwood with 40, they failed to chase a winning score of 249runs.
They are likely to go with an unchanged team though facing a defeat in the first match.
H Carlyon, N Watkins and Ben Stevens will form the top order. followed by Nick Greenwood, J Jenner, D Blampied and C Bisson.
Skipper C Perchard will form the bowling attack with Stevens, C Bisson, D Blampied, N Greenwood
PROBABLE PLAYING XI OF DURBAN HEAT
Charles Perchard (C), Dominic Blampied, Corey Bisson, Harrison Carlyon, Jake Dunford, Nick Greenwood, Jonty Jenner, Elliot Miles, Ben Stevens, Julius Sumerauer, and Nathaniel Watkins
OUR FANTASY LEAGUE PICKS FOR Hong Kong vs Jersey, CWC Challenge One-Day 2019 

ARE MENTIONED BELOW:
Jake Dunford
Aizaz Khan (C)
Nizakat Khan (VC)
Kinchit Shah
Waqas Barkat
Ahsan Abbasi
Scott McKechnie
Corey Bisson
Ehsan Khan
Charles Perchard
Ben Stevens
Click Here for Match Prediction.
*Disclaimer: A team here is picked based on the perception, analysis, and gut feeling of the author. When you select your team, analyze the points mentioned to arrive at your own decision.*