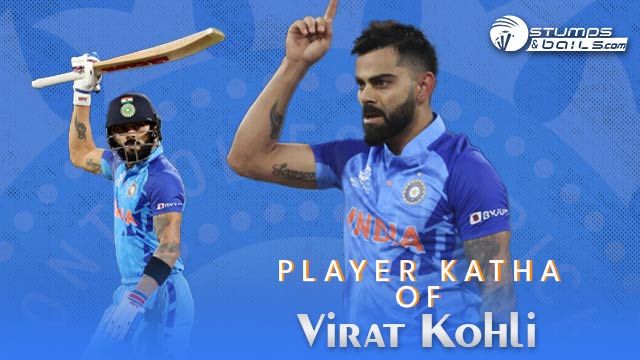 Run Machine Virat Kohli:If I were to say, who is the Best Batsman in the World, I'm sure there will be one name that will resonate in your head. You may try to fight it but just watching one of his innings will give you an answer. The name is Chase Master Virat Kohli. The King, the Talisman, but also a proud husband and father and the man who has proven over the years that he is invincible. Today is Virat Kohli's 34th Birthday. Run Machine Virat Kohli.
In the era when Sachin Tendulkar was considered the GOD of cricket, GOAT Virat Kohli grew up watching him. Emulating his idol and believing in his talent. Time and again he may have said that he will never be able to match his skills, but there is no one who can match Virat's passion. We have seen legends come out of India but we have seen very few as ambitious as Kohli. In order to achieve his goals, Kohli used the technical skills of Sachin Tendulkar and physical conditioning that was on par with the best athletes in the world, not just cricket players. As a result,  King Kohli developed into the all-format accumulator who was the most reliable of all time, making breathtaking chases appear simple and discovering, in his own words, the safest way to score runs. a lot of them.
Chase Master Virat Kohli: Cricket Journey
The Dilli ka Chora started his cricket journey when he was 9 years old at West Delhi Cricket Academy in the year 98. Soon after he represented Delhi at Under 15, Under 17 age group and was also the Captain of the sides. Things came early for him when he represented Delhi in Ranji Trophy match in 2006 when he was just 18. It was the same year when his father passed away and such was his determination that he didn't miss a single day's match and went on to score 90. He went to the funeral once the match was over.
That was the story was his domestic beginnings but even his international accolades came in early. In the year 2008 Virat led the Indian side to the Under 19 World Cup victory. He created a buzz that was hard to ignore. The Indian cricket circuit knew a special talent is coming.
Chase Master Virat Kohli! HBD Virat Kohli!
GOAT Virat Kohli: The International Beginning
2008 was the year when King Kohli played his first ODI. In the era when legends like Sachin, Sehwag, Laxman, Gambhir were the permanent members of the team and formed the top and middle order, it was difficult to make way for anyone. But luck was on his side, and he got chances as a replacement for injuries. He made the best out of those opportunities and found a permanent seat for himself in the dressing room. Soon after he became the fastest Indian batter to score 1000 runs but had a brief period of struggle following it.
He was backed for his talent and he didn't disappoint. He became the back-to-back highest run-getter for the team in almost every bilateral series he played. We mind you, this was in 2010 and we had Sachin and Sehwag in our batting lineup. In the 2011 World Cup that India won, he made a significant contribution to the team.
Run Machine Virat Kohli! HBD Virat Kohli!
Virat Kohli: The Rise of King Kohli
In 2011, he made his test debut but failed to impress but his great run in the ODIs continued. He became the highest run-getter of the year in the world. It was around this time he started to gain accolades for his chasing ability. His hunger to win games for India was riling up but little did we know it will be everything we will see in the coming years.
From 2012 to 2019, there was one scene that kept on replaying. Chase Master Kohli came in the middle, he scored a century and he went back. He came to bat, chased the target, and won the match for India and he went back. He came with calm, put the storm, broke records, and kept on breaking them. Over these years he amassed more than 7000 runs in 7 years and got himself appraisals from every critique around the world.
There were players around him like Steven Smith, Joe Root and Kane Williamson and these formed the Fab 4 but chasing down Kohli in terms of consistency in ODI cricket looked impossible. The major credit goes to his fitness regime which took a shift after a major slump in IPL in 2012. The passionate fiend went on to transform himself into the fittest form and brought a cultural change in the team and even across the nation.
The physical transformation which King Kohli keeps on emphasizing brought him mental toughness and the belief of achieving anything. Run Machine Virat Kohli! GOAT Virat Kohli!
Virat Kohli Runs in Test
It was not just in ODIs that he made significant contributions to the team. Even in Tests, he made records. The golden period in the format started for him in 2014 and peaked in 2018 when he hit 5 centuries and 5 fifties, scoring 1300+ runs. It was in 2014 when he was given test captaincy due to MS Dhoni's absence in first match against Australia in Australia. Kohli scored 115 in India's first innings, becoming the fourth Indian to score a hundred on their Test captaincy debut. He was made full-time Test Captain of the side in the same series following MS Dhoni retirement from Test. In 2017, he was named the full-time India captain after he was handed over the captaincy in the limited-overs format too.
Of all these special years, there was one that was unbelievable. Those who have followed Virat in the year 2016 will know what we are talking about. He scored 700+ runs in ODIs, 1200+ runs in Tests, 641 at an average of 106 in International T20, and a whopping 973 runs in one IPL season. He holds the record of the highest run-getter in one IPL season even now.
Virat Kohli and Anushka Sharma
Following the stupendous 2016. It was in the year 2017 when Captain Virat got hitched to leading Bollywood actress Anushka Sharma. The proud husband that he is, he never shied away from speaking about Anushka's contribution to his life as a role model and a partner.
Virat Kohli Out of Form
We had seen so much good from Virat till 2019 that he had set a benchmark for himself. Fans started expecting only centuries from him. After the world was hit by COVID-19 in 2020, it was hard for everyone to recuperate in those times. Not much of cricket was played in the year but when players came back to the field, we saw something different. We saw a Kohli who had all the ambition in the world but just because he was not converting his 50s into hundreds, it became the talk of the town. He gave up all his captaincy roles following the critiques. He talked about his struggles and the need for him to take a break. But the fans believed in him and it was worth the wait.
Virat Kohli 71st century: Will Virat Kohli score 100 Century?
We did not see a century for 1000+ days from Virat. But in Asia Cup 2022 Virat finally hit his 71st century and it was a celebration for the entire world. As of today, Virat Kohli turns 34, he is the second highest in the century list, the only batter with a 50+ average in all formats, the only batter in the top 10 of the most runs scored in the career list, he is the man of the moment with 8000+ Test runs, 12000+ ODI runs and almost 4000 T20I runs, he is GOAT Virat Kohli, the batter not just par excellence but who defines excellence.
There is no doubt about the talent and skills of the Prodigy Virat Kohli. He is undoubtedly amongst the best batters, the best chase master Kohli we are all aware of. Virat Kohli turns 34 today  Here's wishing Run Machine Virat Kohli! HBD Virat Kohli. We wish you score more runs like you do and win matches for India, like you do!