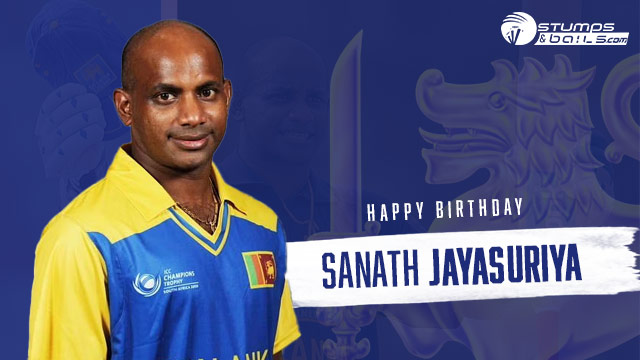 Former Sri Lankan skipper Sanath Jayasuriya (Happy Birthday Sanath Jayasuriya) is celebrating his 53rd today.
Jayasuriya was born on June 30, 1969, in Matara, Sri Lanka, and is known for his destructive batting and all-around performance.
During his international career, he has scored 21032 runs (test+ODI+T20 combined), including 42 centuries and 103 half-centuries, and he has played a crucial role in guiding Sri Lanka to many important matches.
Jayasuriya represented Sri Lanka in all formats of the game and is a key player on his side for providing a solid opening with his power hitting. Jayasuriya played an important role in helping Sri Lanka win their maiden ICC World Cup.
How he started in international cricket?
Making his international debut against Australia in 1989. Jayasuriya didn't take long in cementing his place in the star-studded Sri Lankan side. He instantly became everyone's favourite due to his impressive technique and solid power hitting approach.
Apart from heroics in World Cup 1996, Jayasuriya played solid cricket in the other major tournaments as well.
Talking about one of his fine innings, when Sri Lanka created Test history at Colombo. In the 1st test between India and Sri Lanka in Colombo in 1997. India posted a massive total of 537/8 (declared) in the first innings.
In reply, Sri Lanka recorded the highest Test score ever with Jayasuriya remained the main source behind it. The hosts put 952/6 (declared) runs on board.
The sensational Jayasuriya not just hit 340 runs but also recorded the then highest Test partnership of 576 runs alongside Roshan Mahanama, who also played a solid knock of 225 runs.
Jayasuriya was not an effective batter but a fantastic bowler too. In 1993, the superstar of Sri Lanka thrashed English attack with his pace variations and guile. He claimed six wickets for just 29 runs from 9.5 overs. His side won the match easily by 8 wickets and Jayasuriya was awarded as the player of the match.
The veteran also handled the responsibility of Sri Lanka's captaincy from 1999 to 2003. In that period, he captained the side 38 times in tests and 117 in ODIs. Under his leadership, the Sri Lankan team reached the semi finals of ICC World Cup 2003 in South Africa.
Records and Achievements
The veteran southpaw represented Sri Lanka in 110 Tests, 445 ODIs and 31 T20Is. He smashed 6,793 runs in test cricket, a whopping 13, 430 runs in one-day internationals and 629 in the T20Is before announcing his retirement in 2011. While he picked 98 wickets in Tests and 323 in ODIs.
Jayasuriya holds several records in T20Is, ODIs and T20.
He holds the record of scoring highest individual score for Sri Lanka in ODIs (189). He has hit 2nd highest number of sixes in ODIs (270). While Jayasuriya is also the 4th highest run getter in the history of ODI cricket (13,430) till date.