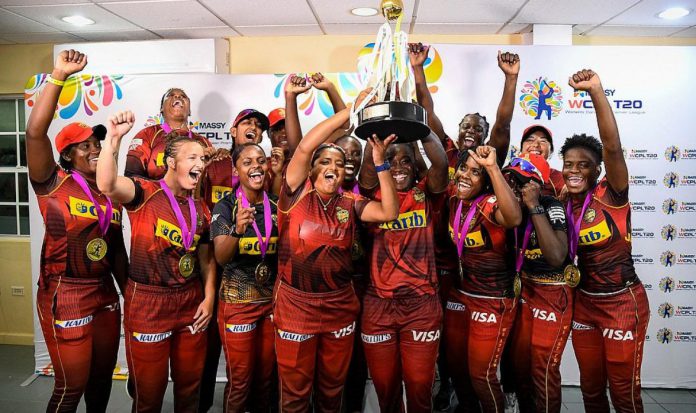 Trinbago Knight Riders after the loss to Barbados Royals in the 6IXTY league final have now revived themselves after winning the Inaugural Women's Caribbean Premier League 2022 after beating Barbados Royals by 10 wickets.
This is the first season of the Women's Caribbean Premier League and the Trinbago Knight Riders have claimed the title in a decent fashion.
After winning the toss Barbados Royals decided to bowl first, skipper Dottin and Lee-Ann Kirby opened the innings for the Trinbago Knight Riders side. Batting first Lee-Ann was dismissed early on by Qiana Joseph but still, they stood strong and scored runs even though wickets were falling at the other end.
Dottin scored 59 runs from 62 balls helping the Knight Riders set up a target of 100/7 in 20 overs, except Dottin's rest all struggled to stand strong and post a better total to defend.
Barbados Royals bowled pretty well to restrict the Knight Riders for 100, Hayley Matthews picked up three wickets in this four-over spell with an economy of 5.5. Qiana Joseph, Afy Fletcher, C Tryon, and S Selman picked up one wicket each to restrict Knight Riders to a lesser target.
In response, Aaliyah Alleyne and Hayley Matthews opened the innings for Barbados Royals where the Royals lost their opener early on and skipper Hayley Matthews held her ground and tried to carry the team towards victory but as the innings progressed she was dismissed for 46 runs in 49 balls by Anisa Mohammed. Expect the skipper no one scored two-digit runs.
The batting line-up of the Royals was destroyed by the Knight riders bowlers as Anisa Mohammed picked up three wickets, on the other hand, Sheneta Grimmond and Hayley Jensen, and Sune Luus picked up two wickets each to stop the Royals from chasing the target down.
Even after a bad batting performance from the Knight Riders, they managed to bowl well and stop the Royals from chasing the target and thus winning the Inaugural Women's Caribbean Premier League 2022.