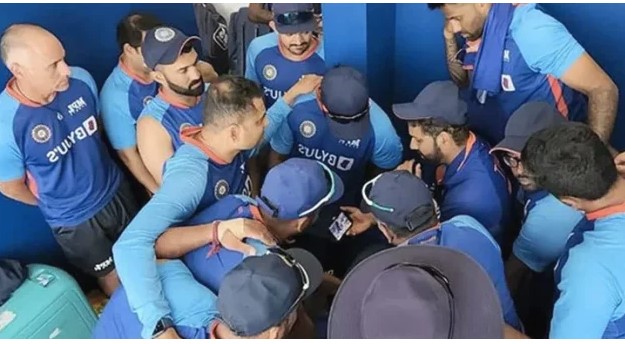 Indian women's cricket side had to settle for a silver medal after suffering a shocking defeat to the Australian side in the Commonwealth Games Gold medal match on Sunday.
BCCI posted on their Twitter handle stating "Nail-biter at Edgbaston, Senior Men's team is following team India's progress in the final." With a picture where all the senior men's cricketers ganged up to watch the game with curiosity.
Both Indian men's and women's teams were in action on Sunday evening, in different parts of the world. Where India was facing West Indies in the final T20I match in the five-match series and the women's team was facing Australia in the Gold medal match of the commonwealth games.
Both the games had different outcomes, where the men's team was able to win the match and take the series home with a 4-1 win over West Indies, and the women's match turned out to be disappointing in terms of the result as the women's side were in the hope of winning gold.
The Indian women's team worked hard to reach the final and were even performing very well in the final the team was even on the brink of getting the gold medal at one stage but the fall of consecutive wickets lead to heartbreak.
Even though the women's team lost the final, they got appreciation from all over the country. Narendra Modi the prime minister of India took his time out and posted on his Twitter handle saying "Cricket and India are inseparable. Our women's cricket team played excellent cricket through the Commonwealth games and they bring home the prestigious silver medal. Being the first ever CWG medal in cricket, this one will always be special. Best wishes to all team members for a bright future."
Even BCCI president Sourav Ganguly posted on his Twitter saying "Congratulations to the Indian women's team for winning silver. But they will go home disappointed as it wasn't their game tonight".