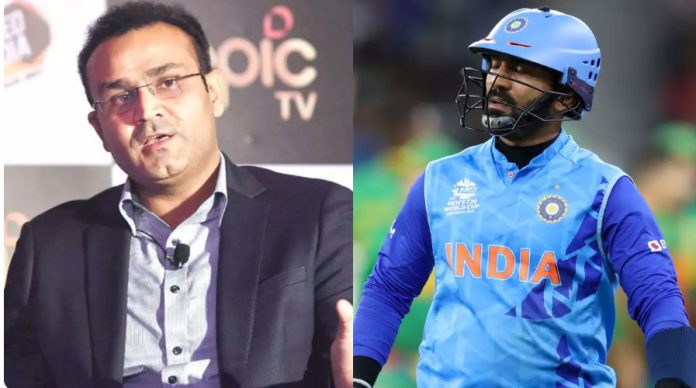 When Karthik performed in Australia this is not Bangalore: Sehwag makes a big statement on India's wicket-keeping spot
Former India Batter Virender Sehwag has slammed the team selection after the men in blues' first loss in the ongoing T20 world cup against South Africa raised Questions over Dinesh Karthik's place saying that Rishabh Pant Should have been in the side.
After the experienced stumper's two tournament defeats, the Dinesh Karthik-Rishabh Pant argument, which had subsided before the T20 World Cup, has gained momentum once more. Since his incredible return to the national squad, Karthik has played a couple match-winning performances for Team India in the closing stages of innings, but he hasn't been able to carry over that form in Australia. Karthik has batted in two games, recording scores of 1 and 6.
What Virender Sehwag quoted:
However, former India batter Virender Sehwag has called for Rishabh Pant to be selected in the team. Because the youngster has played Tests and ODIs in Australia recently while Karthik hasn't. The veteran stumper had left the field on Sunday, October 30 against South Africa with a back pain, and there are doubts about his fitness before the next game. Sehwag claimed that Pant should have been used in lieu of Deepak Hooda on Sunday.
After India's first T20 World Cup loss
Sehwag commented on  "Ye toh pehle din se hona chahiye thi. Test and ODI cricket, as well as performance, are all vahan. Dinesh Karthik: khele Australia me? Bangalore's pitch does not exist. Unko vahan khelne ka anubhav hai, main aaj bhi ye hi keh raha tha ki Hooda ki jagah Pant ko khilaate. Australia has unhoned Gabba's ghamand as of today. (This ought to have been the situation from the start. Pant has participated in ODIs and Test matches there. Dinesh Karthik last competed in Australia when? this is Not a Bangalore wicket, I still maintain that Pant ought to have been in the team instead of Karthik.
Sehwag said that as an expert
He can only give suggestion but he felt that Pant should have been in the side from the start.
I can just give suggestions here, what management wants is the main thing. In my opinion, Rishabh Panth should play before as well. For now, Karthik is not fit and Panth should be the replacement for the injured cricketer.
Before the World Cup Karthik last played the World Cup in 2018 in Australia where he scored 30 and 22 in two matches.
The debate is going too fast to choose from the sitting options. Also, the management has to look into the player selection sincerely.