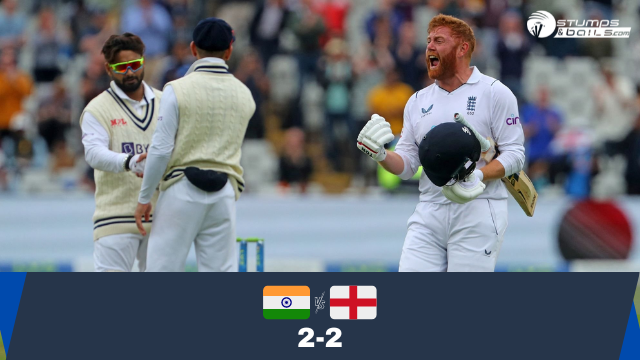 After a much of drama over the last five days at the Edgbaston, it was team England who secured the victory in the battle between the two giants, India Vs England 5th Test
The highly charged English side under Ben Stokes defeated the visitors by 7 wickets in the 5th rescheduled test match of 5-match test series, which previously India lead by 2-1, but with the fifth test ended in England's favour both will share the trophy.
The fifth test was a part of last year's 5-match test series, which due to Covid reasons was not held as per the original schedule. The boards of both the teams, ECB and BCCI then mutually decided to play the final match when India visit England for white-ball series in 2022.
Before the start of match, team India faced a major setback when their all-format captain Rohit Sharma tested positive for COVID-19 and was ruled out the test. Indian management then named Jasprit Bumrah as the captain of team India for the 5th rescheduled test.
What was the drama? 
Indian team started their campaign on a slow note by losing 5 wickets under 100, including the ex-skipper Virat Kohli. However, Rishabh Pant and Ravindra Jadeja then steadied India's ship and help their side cross 300 mark.
Pant scored 146 off 111 balls, while Jadeja also completed his century. India then posted 416 runs in the first innings, thanks to stand-by captain Jasprit Bumrah's late surge.
The Bumrah Show
Interestingly, on day 2 of the match when India lost their ninth wicket on 375, Bumrah took the charge and did Yuvraj. He collected 35 runs off Stuart Broad's over to set a world record of hitting the highest run in an over in history of test cricket.
Bumrah not just stopped there, as after that, he did what he does the best. He removed top three of England batting order when the hosts were at 44, and put the English side on back out.
England lost 5 wickets under 100 
The battle became more tensed when England lost Root and then Leach before reaching the 100-run mark.
Indian bowlers then started the day 3 with a bang as both of England batters faced a little difficulty when facing Indian bowlers specially, Mohammed Shami. And on that, the ex-skipper of team India Virat Kohli and England's Jonny Bairstow indulged in a verbal spat, which costs team India later in the game.
Bairstow – The Punisher 
As after that spat, Bairstow started punishing the bowlers and then scored a brilliant hundred to help England post 284 runs on board.
India were still there in the game as they have a lead of 132-run with them. All they need to do was to just set a good target in front the mighty England, who last month defeated the current World Champions New Zealand in three consecutive games by chasing 277, 299, 296 runs target.
However, visitors team took England for granted as just like the 1st innings, Indian batters lost their momentum after a good making good start as every player failed to convert their innings to a big one, which resulted in India were bowled out for 245 in the second innings.
India set a 378 runs target for England
378 is a big target to chase on any surface on fourth and fifth day of a test. But, the kind of cricket current England team is playing is truly top-notch.
They started the chase in a one-day style, and when they lost their first wicket they were at 107 in just 21.3 overs.
However, there was some drama still left in the game as the hosts then lost 3 wickets within 2 runs to give Indian fans a happy moment. But that not last, as Joe Root (142*) and Jonny Bairstow (114*) once again played an outstanding game of cricket and hand England a win in the fifth and final test of the series.