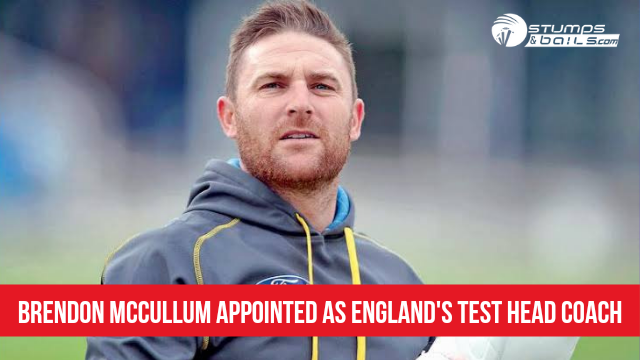 Brendon McCullum's hiring as the coach of the England Test squad has been officially recognized by the England and Wales Cricket Board (ECB). Following Joe Root's decision to step down as captain, Ben Stokes will take charge of the side for the next three-match home series versus New Zealand. This will be McCullum's maiden task with the squad, which also has a new captain in the form of Stokes.
McCullum is present with the Kolkata Knight Riders in the Indian Premier League 2022. He is anticipated to join the team as soon as he obtains a work visa, which should take place before the first match of the New Zealand series at Lord's Stadium on June 2. Due to the fact that the 40-year-old has extensive coaching experience in the limited-overs format, it was initially thought that he would be the leading candidate to coach England's white-ball teams. Nevertheless, he has now surfaced as a potential candidate for England's red-ball side.
Since it panned out, he was selected as the top candidate by the ECB's selection committee, which was made up of CEO Tom Harrison, freshly hired MD Rob Key, Strategic Adviser Andrew Strauss, as well as Performance Director Mo Bobat. The board was unanimous in their decision to pick him.
McCullum's appointment will be good for England's Test team: Rob Key
"We are delighted to confirm Brendon as England Men's Test Head Coach. It has been a real privilege to get to know him and understand his views and vision for the game. I believe his appointment will be good for England's Test team," Managing Director of England's Men's Cricket Rob Key said.
Key made these remarks in response to the selection of the New Zealander, in which he praised McCullum for his history of altering cricket culture and settings and predicted that Stokes and McCullum would make a tremendous partnership together.
🗣 @Bazmccullum #EnglandCricket pic.twitter.com/fumbBJ4xvz

— England Cricket (@englandcricket) May 12, 2022
McCullum has acknowledged that he can't wait to start because he is seeking forward to collaborating with Stokes to lead England to even newer heights. "Ben Stokes is the perfect character to inspire change around him, and I look forward to working closely with him to build a successful unit around us," McCullum said.
"I'd like to say how pleased I am to be given this opportunity to positively contribute to England's Test cricket set-up and move the team forward into a more successful era. In taking this role on, I am acutely aware of the significant challenges the team faces at present, and I strongly believe in my ability to help the team emerge as a stronger force once we've confronted them head-on," he added.
"I've enjoyed several robust conversations with Rob Key about the direction of travel for the team and have found his enthusiasm contagious. I'm no stranger to bringing about change within a team environment, and I can't wait to get started", he concluded.