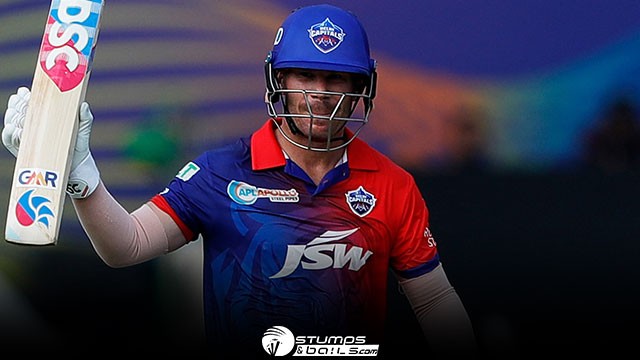 Delhi Capitals will face the Sunrisers Hyderabad in Match 50 of the IPL 2022 on May 5. Warner, who was engaged with SRH from 2014 to 2021, broke ties with the firm on a harsh note last year. He was fired as a skipper in the middle of the competition and also was pulled from the starting XI. The lefty didn't even make it into the team's bench in the later rounds of the event.
Warner's efforts to fill the stands with the SRH flag in his hands and cheering for the side, pushed the devoted Hyderabad supporters into a frenzy as they witnessed the Aussie stalwart's agony. Warner, who has been hailed as among the SRH camp's major talents and performances since 2013, has been freed and sold in the blockbuster auction well before IPL 2022 season.
We could get that upper hand if we beat Sunrisers: Warner
Strangely, SRH did not retain Warner, while DC obtained his skills in the IPL mega auction. Furthermore, Warner is now in blazing form ongoing season, amassing 264 runs in 7 appearances, featuring 3 half-centuries. As a result, he would indeed be motivated to forge a trademark for himself against his former team.
In 2016, he ultimately led the team to their maiden IPL title. As a result, the SRH franchise received harsh criticism for its conduct with Warner throughout the previous season. Interestingly, the lefty regained his lost form following the IPL 2021 and played a pivotal role in Australia's T20 World Cup victory the year before. SRH bowling unit must be cautious of him as he's been amongst some of the aggressive hitters this season.
Here on the evening of the heavily hyped matchup, Warner stated that he is gearing up for the duel versus SRH in the same way as he would for any other tough battle, dismissing the immense pressure. Warner emphasized that the squad's top-order batters must assume responsibility in the weeks ahead and assist the team gets off to a successful destination.
"Moving forward from where we are, we've obviously got to win every game to make it to the finals. There's a strong competition, two teams we have got to come against – Punjab Kings and Sunrisers Hyderabad, who are pretty much similar points to us. We could get that upper hand if we beat Sunrisers. We then go into the top four, but obviously, we need RCB to start losing as well. It's quite a congested table, but exciting for the rest of the tournament", said David Warner
"My thoughts are like every other game, just keep going through your processes, do what you have to do at training, and get right for the game", said David Warner before the clash against former team SRH.
View this post on Instagram