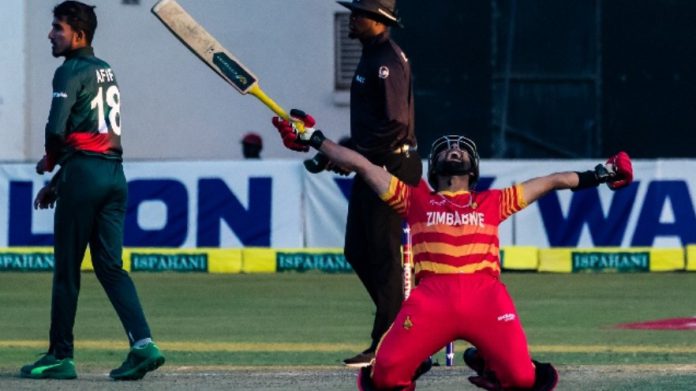 Every generation has a player that is a wunderkind. They are just too good to catch up with? For this generation, we have the Fab 4. These players became with their skills, technique, and consistency over the years. Apparently, all these players belong to countries that are playing cricket for a long time, and that too a lot of it. Sikandar Raza is not a young lad who has achieved so much in a short span of time. He is an old, mature player who is winning games for his country and his consistency is this year is prodigious.
We know T20 World Cup 2022 is turning out to be jello. We don't know what to expect from it. It has its bag of surprises for us and one surprise came in when Zimbabwe beat Pakistan in their 2nd match of Super 12. The team this year has shown us that they are putting their best efforts to enhance the quality of cricket. They have one man to give a lot of credit for winning the series against Bangladesh, beating Australia in their home in ODIs, and for this victory against Pakistan. The name is Sikandar Raza. The man who has won 7 Player of the match awards this year in T20Is for his country. The most by any player this year!
Sikandar Raza: The Player of the Year
The story of Sikandar Raza is not that of your typical international cricketer. He is neither a young prodigy nor someone who has a strong desire to represent his country. He discovered he is quite talented at the sport he occasionally played as a child when he transitioned from his adolescent to adulthood.
Zimbabwe has played 21 T20Is, in them, they emerged winners in 11. Sikandar has won 7 Player of the match Awards in these matches. In one instance, the award was not given or else it would have been 8. He scored at a 170+ strike rate and if not that he strikes with the ball. In 2022, he has scored 661 runs already at a 35+ average and a strike rate of 152.
With the ball, has taken 23 wickets in 21 matches. He has a highly impressive economy of just 5.98 with an exceedingly well strike rate of 16.70. His average lies at 16.65.
The stats talk for themselves. The player has shown he is extremely important for the side not just with the ball but also with the ball.
How Raza Prepares Himself?
The journey from Pakistan to Zimbabwe was not as smooth. The player immigrated to the country in 2002 but was only granted citizenship in 2011. Raza wanted to be a pilot but due to a vision problem, he couldn't qualify for the required tests.
He took up cricket as a semi-profession in college and the journey started from there. He was 27 when he made his debut. In almost 10 years, he may have not gotten a chance to play a lot of international cricket with the big teams, he does get exposed to the games at a big level.
You would be amazed, If you look at the number of teams the allrounder has played for in franchisee cricket. He plays in leagues all around the world. This is his prep time. We love to see how the player has grown over the years and now his experience is reaping benefits for his home team.
In the match against Pakistan, Raza was heard saying that he had a sleepless night, thinking about Haris Rauf on a Perth Wicket that was tailor-made for him. He made notes to tackle him. Even though he failed with the bat, he did it with the ball again. Making his team win the match by 1 run.
Zimbabwe's Lone Warrior: Sikandar Raza
Even though Zimbabwe is not a new team in Cricket Fraternity. They have not been exposed to cricket with bigger teams but the experience is what brings character to the team. Sikandar is the man of the hour for them. He is winning the games for the team. With Australia win and Pakistan turnaround, we are seeing his as the anchor of the team. He gets support from all around but we can say his reemergence has a positive impact on the team and we are all appreciative!