On the platform Instagram, Indian leg spinner Yuzvendra Chahal came in support of his wrist-spin partner Kuldeep Yadav.
It began at Eden Gardens on the eve of the historic pink-ball Test match against Bangladesh. Current Test team player Yadav is likely to continue the warm bench tomorrow.
"Back to the Eden. Lovely memories are here. In the excitement of our first-ever day-night test," read the Yadav's post caption.
Chahal, who is usually very active on social media, posted a comic comment on Yadav's post.  When Chahal read a fan reminding Yadav of England all-rounder Moeen Ali with the comment, "Moeen [Ali] to Yaad hai na."  It irked Chahal.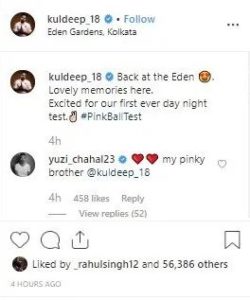 Yuzvendra Chahal criticize fan to support Kuldeep Yadav
Moeen Ali got mentioned by the fan because the English all-rounder was in the middle when Royal Challengers Bangalore hit 27 runs this year off a Kuldeep Yadav over in the Indian Premier League.
Chahal stood by Yadav to make sure that the fan got a befitting response.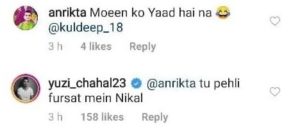 Upon replacing the senior pair of Ravichandran Ashwin and Ravindra Jadeja in limited-overs cricket, both Kuldeep and Chahal have become India's leading spin-duo. The Indian selectors agreed to bring about a change in the spin department only after the ICC Cricket World Cup.
While Chahal has returned to the T20I side before the ICC T20I World Cup 2020 in Australia, it is expected Yadav will do the same.