A day before India's first test of the two-match series against West Indies, Virat and Co. moved out for a party at Jolly Beach in Antigua on Wednesday. The whole team took social media and shared a few pictures.
Among all, India's captain Virat Kohli and the world's top bowler Jasprit Bumrah stood out by flaunting their impressive six-pack abs in a pic. The picture went on crazy among the fans on social media. Besides that former India cricketer, Yuvraj Singh also lavished praise on the Virat Kohli and Jasprit Bumrah for their fitness.
Jasprit Bumrah on his Instagram has put a captioned picture with Virat – "Sun-soaking with @virat.kohli and the team"
Yuvraj Singh commented on the post – "Oho fitness idol"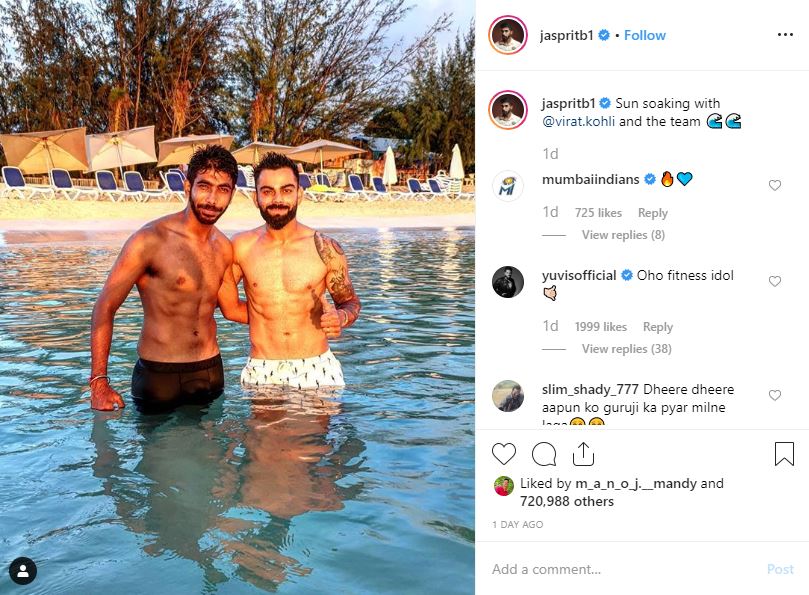 India is ranked number one in the world and West Indies are ranked 8th. That would point to an easy series for the top-ranked side but the truth is far from it. India is now playing its first test with the two-Test series against the West Indies.
Meanwhile, Sri Lanka, New Zealand, England, and Australia have started their respective campaigns in the World Test Championship.
Earlier in West Indies tour, India swept the three-match T20 International series and won the three-match One-day International series with a 2-0 lead.