India move up in the rankings in the World Test Championship 2023
After the win against Bangladesh, India is now one step closer to WTC 2023 final
India moved up to second place in the World Test Championship points standings with a dominant 188-run victory over Bangladesh at Chattogram on Sunday in the first Test.
The victory also preserved India's chance to participate in the final match. In 13 games, India has 87 points. The team's record is seven wins, four losses, and two draws.
Bangladesh's hammering didn't help their position, with one victory from 11 games, they are mired in ninth place with 16 points. Australia, who is now playing South Africa, is still in first place with 108 points after 12 games.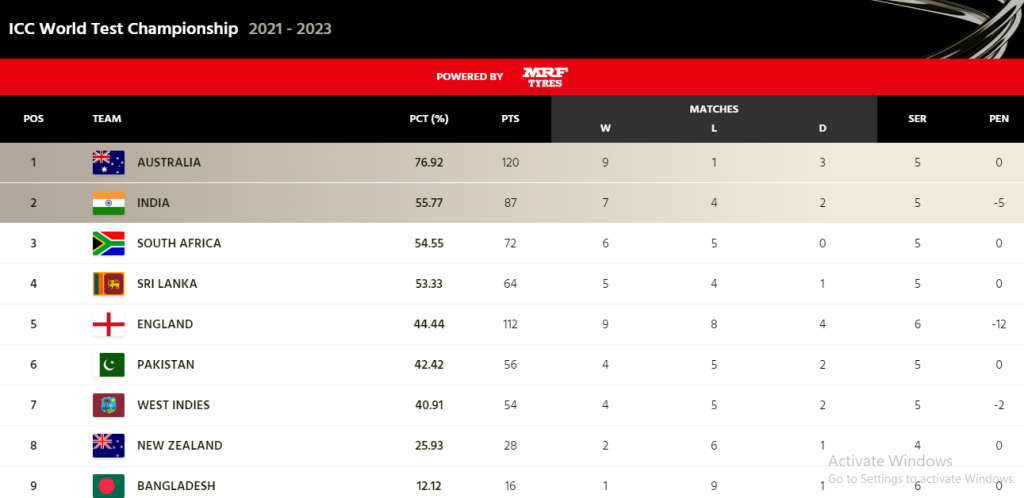 India's Chances of playing WTC 2023 Final
The outcome of the current three-Test series between Australia and South Africa would also have an impact on India's hopes. If Australia defeats the Proteas 3-0, it will go to the final after recently defeating the West Indies 2-0 at home.
India still has five Test matches left, including four at home against Australia starting in February and one against Bangladesh (December 22–26). India would require at least three victories and a draw against Australia in order to qualify with a minimum point of 64.35, assuming it defeats Bangladesh 2-0.
What is World Test Championship?
The International Cricket Council (ICC) launched the ICC World Test Championship, a league tournament for Test cricket, on August 1, 2019. It is meant to be the top competition for Test cricket. It supports the ICC's objective of having a championship match for each of the three international cricket formats.
In August 2021, the WTC 2021–23 cycle got going. The whole programme and new points system were officially unveiled by the International Cricket Council. The first Ashes Test, which will take place on June 16, 2023. Will mark the start of the WTC 2023–25 cycle. The final will be contested at Lord's in the summer of 2025. According to an official announcement from the International Cricket Council.
India ended the first test in style against Bangladesh
The final day at Chattogram, it just took fifty minutes. By defeating Bangladesh by 188 runs, the KL Rahul-led team has secured an unbeatable 1-0 lead. The guests put on a great display overall. They would be extremely confident going into the second Test after a victory like this.