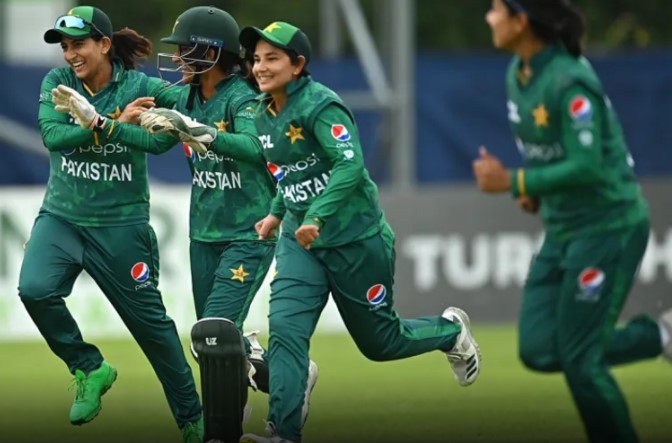 Australia, Pakistan, and Ireland are playing the T20I tri-series and it is some quality cricket we witness every day. In Game 3, Pakistan won a thrilling match against Ireland, winning the match by 13 runs by Duckworth Lewis Method.
After deciding to bat, Pakistan sustained powerplay till the rain came down for a good time, cutting the match's duration to 14 overs per side. After the innings were resumed, Pakistan's batters struggled to force the tempo in the brief innings till Dar's easygoing 15-ball 26 assisted them in posting a respectable total. Her fireworks allowed Pakistan to quadruple their total in the final five overs scoring a total of 92 runs.
Ireland didn't back down from the challenge of chasing a DLS-adjusted goal of 97, and they got off to a strong start as openers Rebecca Stokell and Gaby Lewis scored 25 runs off the first two overs. Dar, though, swung the momentum once more, this time with the ball, just as she had done with the bat. She conceded just five runs in her first over (the third of the innings), which served as the impetus for Pakistan's comeback.
As the bowlers followed their game plan and bowled to their fields, runs began to dry up. Although Ireland's batting slowed down as Stokell left the crease, they still appeared confident. Ireland required run-a-ball for the final 38 runs with nine wickets in the bag. Normally, you'd bet on the chasing team to win, but similar to their men's team in recent weeks, Ireland's women weren't able to deliver the finishing blow.
The run rate was continually being reduced by Pakistan's bowlers, and eventually, Ireland was unexpectedly defeated by 13 runs. Lewis' inability to accelerate after practically finishing her innings speaks eloquently about Pakistan's bowling and fielding at the end.
Delaney, the Ireland captain, said post-match "look to push the boundaries in the middle period. Bitterly disappointing. This is the challenge of playing against some of the best sides in the world, you're going to go out and you're going to play good cricket and you're still going to be beaten.
"So we'll go back, we'll regroup again tomorrow with training. We play against Australia than on Thursday which we know again will be a really good contest but we're just happy to be playing good cricket against competitive sides."
PLAYER OF THE MATCH: Nida Dar, PAK-W, 26 (15) & 1/17