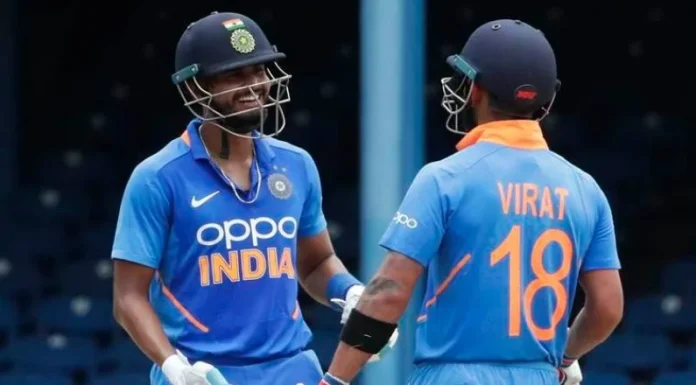 Who is the best No 4 batsman in ODI?:India looked like a fairly settled ODI side post the twin series wins over Sri Lanka and
New Zealand
earlier this year. They had a fair inkling of what their ideal starting XI would look like in the ODI World Cup year.
India's playing XI breakup:
The top order of Gill, Rohit, and Kohli picked themselves while Shreyas Iyer and KL Rahul followed next. Hardik Pandya along with the returning Jadeja was expected to take up the finishers' job. India could then go in with a seam-bowling allrounder at 8 or pick another spin-bowling allrounder.
The bowling choices:
Kuldeep Yadav's wrist spin was coming along nicely with Shami and Siraj being the lead pacers. But just two games into the series against Australia, India's carefully laid out plans have come up a cropper.
Shreyas Iyer's injury:
The injury to Shreyas Iyer has put a spanner in India's strategy. His absence has opened up the number 4 spot in ODIs. There are many contenders who feel they deserve a crack at the spot. The timeline for Iyer's recovery isn't confirmed. He has been suffering from this injury for a long period of time. India needs to have their options sorted as the home ODI World Cup is looming large.
We look at who should be India's number 4 in ODIs:
#1 Suryakumar Yadav
He was the immediate choice for the spot once Iyer was ruled out from the series. It was expected that he would finally translate his T20I brilliance to the ODI format. But the script couldn't have been more awful for Suryakumar Yadav. He became the first Indian batsman to be out for a golden duck in two successive games batting at number 4 in the same series. Time seems to be running out for Suryakumar Yadav in ODIs.
#2 Ishan Kishan
He seemed undroppable from ODIs after scoring a magnificent double hundred against Bangladesh last December. But once Shubman Gill returned to the setup Kishan was pushed down to the middle order. He couldn't post a substantial score batting at number 4. But he did have a good outing against South Africa playing in the middle order. Kishan though has been given a fair run to prove himself at this level on a consistent basis. But pretty much like Suryakumar his time to audition for that number 4 spot seems beyond him for now.
#3 Sanju Samson
He has fantastic numbers to show for his brief career in ODIs so far. Sanju Samson came close to pulling off a sensational win for India against South Africa in the home series in October 2022. He played handy knocks in West Indies and Zimbabwe too. Samson could have been given a run in the current series. But he will finally get his chance post the IPL. Samson is someone who deserves a long run and he might still be with a chance to play in the ODI World Cup at home.
#4 Axar Patel
It might seem like a total left-field choice to slot in Axar Patel at number 4 in ODIs. But he is someone who has improved drastically as a batsman. Patel was India's best batter in the Test series across all situations of the game against both pace and spin. He showcased flashes of brilliance even in the 2nd ODI against Australia where everyone around him failed. Axar can bring in the much-needed left-handedness to India's right-heavy top order. Patel is an effortless destroyer of spin bowling. He could be India's X-factor in the middle overs.