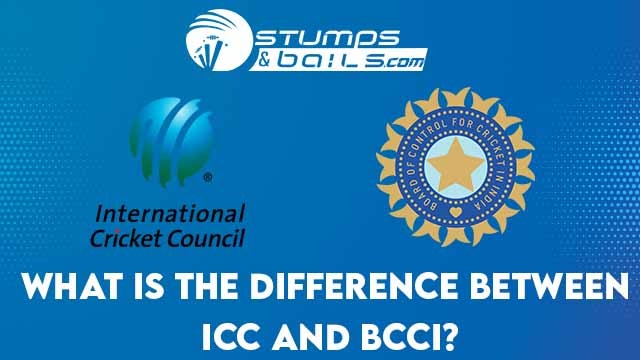 The ICC and BCCI are two different cricket governing bodies. While ICC stands for International Cricket Council, which looks over the affair of all the issues related to international cricket of all the countries combined. The
Board of Control for Cricket India
(BCCI) is only concerned to run the Indian cricket fraternity. let's look at What Is The Difference Between ICC and BCCI?
What is ICC?
ICC heads all the areas of international cricket. Right from men's cricket to women's and other formats. They schedule the international games from bi-lateral series to big international events like World Cup, T20i World Cup, and WTC. ICC are responsible to implement new rules in the games for the smooth functioning of the sports.
They have to work with every individual cricketing board to plan and execute the future of cricket. Greg Barclay is currently the president of the ICC. ICC was founded as the Imperial Cricket Conference in 1909 by representatives from Australia, England, and South Africa. It was renamed the International Cricket Conference in 1965 and took up its current name in 1987.
What is BCCI?
BCCI is the official governing body for Cricket in India. Former Indian skipper, Sourav Ganguly is currently the President of the BCCI. BCCI are responsible to run the Indian cricket team. They look into each and every detail about the team, right from the scheduling of matches to the player's salaries.
"The Board of Control for Cricket in India (BCCI) is the governing body for cricket in India and is under the jurisdiction of the Ministry of Youth Affairs and Sports, the Government of India.[2] The board was formed in December 1928 as a society, registered under the Tamil Nadu Societies Registration Act. It is a consortium of state cricket associations and the state associations select their representatives who in turn elect the BCCI Chief. Its headquarters are in Wankhede Stadium, Mumbai. Grant Govan was its first president and Anthony De Mello its first secretary" as mentioned in Wikipedia.
Also read: What is Saurav Ganguly's salary as the BCCI President