Yes, we are talking about IPL – Indian Premier League (India's Cricket Festival). The 2019 season of the Indian Premier League, also known as IPL 12, will be the twelfth season of the IPL. The tournament which started on 23 March and ended on 12th May with Mumbai Indians Lifting the IPL 2019 Tittle.
Cricket is one of the most loved and favorite sports entertainment, especially in India. Here we present data analysis for IPL (Indian Premier League-2019) with Top Performers and their key stats. This can be useful for all the cricket lovers to analyze and make quick decisions based out of this. Few of which can be like, Which cricketer has scored the most for a season. etc?
Highest Run Scorer Batsman in IPL 2019
A total of 692 runs made by David Warner. And here is the glimpse of the Top Highest Scoring Batsman.

Most Runs Scored in An Over in IPL 2019
As Andre Russell being the Hard Hitter for the IPL Season 2019 with a strike rate of 204.8. The one hit 28 runs in 5 balls followed by Jos Buttler with 6 balls 28 runs. And the glimpse of the top 10 players who scored most runs in an Over.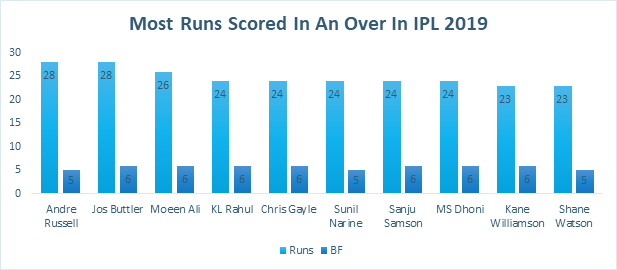 Top 10 Most Fifties' Made by Players in IPL 2019
As we can see that most of the fifties were made by David Warner with 8 followed by KL Rahul with 6 fifties being 2nd place in making fifties with Rishabh pant and Shreyas Iyer from Delhi capitals with same 3 Fifties.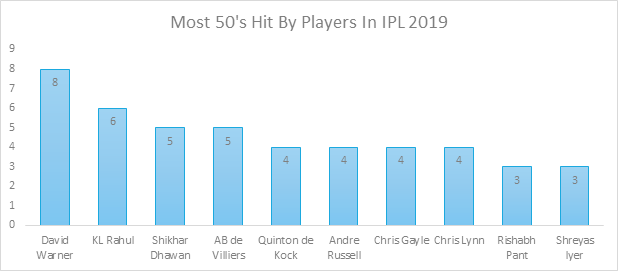 Best Batting Average in IPL 2019
MS Dhoni is the one with the highest batting average with 83.2 in IPL 2019 and David Warner with 69.2 as his average and 43 for Manish Pandey from SRH captured the 10th place in Best batting average in IPL 2019.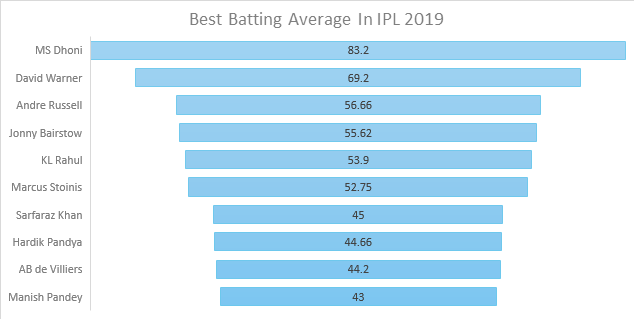 Most Boundaries (4's) Hit by Players in IPL 2019
This record is taken by Delhi Capitals Player Shikar Dhawan with 64 fours followed by David Warner with 57 from SRH and the same count of 48 boundaries (4's) hit by Jonny Bairstow from SRH and Parthiv Patel from RCB and others top 4's hit count.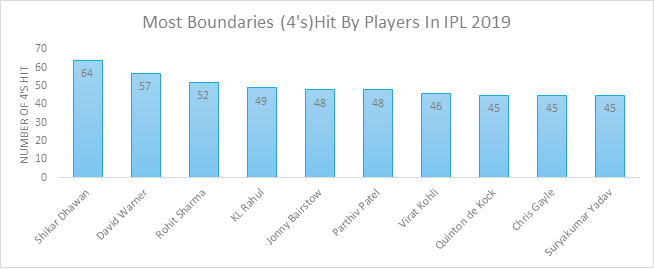 Most Boundaries (6's) Hit by Players in IPL 2019
Wow! It's Andre Russell who made it 52 sixes in IPL 2019 followed by Chris Gayle with 32 and Hardik Pandya from Mumbai Indians with 29 sixes. The top-notch players with their Hard-Hitting Ability in IPL 2019.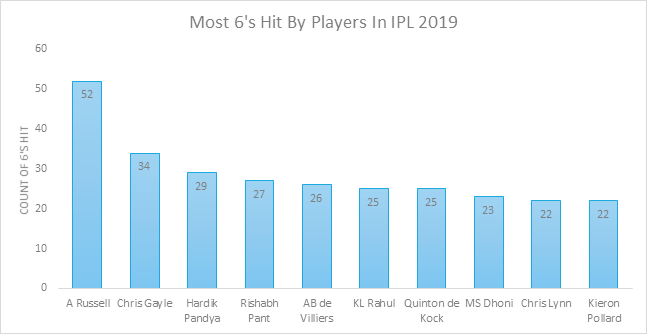 Best Batting Strike Rate in IPL 2019
Here, the key players with top-notch strike rate which proves them as hard hitters with 204.8 strike rate with Andre Russell from KKR and Hardik Pandya with 191.4 from Mumbai Indian secure the second place in the list of Strike rate performers.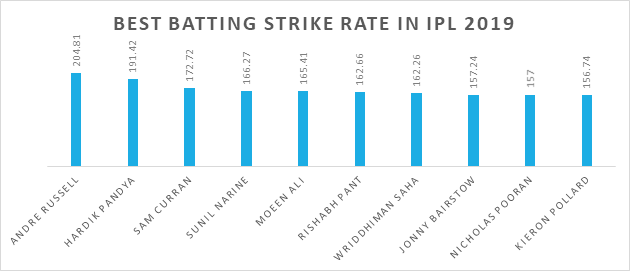 For Overall Bowling Stats Click Here.