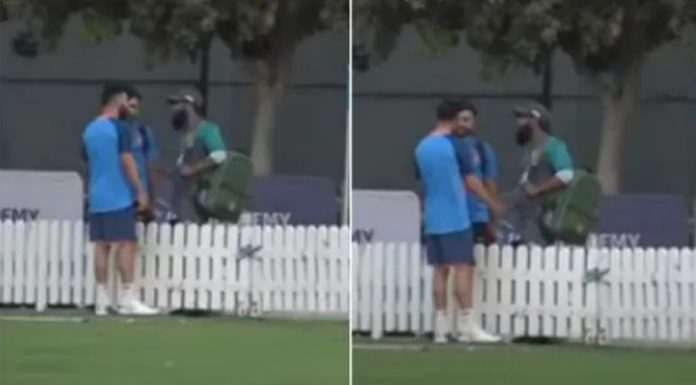 Following its arrival in the United Arab Emirates for the Asia Cup 2022, Team India took part in its first practise session on Wednesday. During a strenuous practise session against the bowlers, India's great batsman Virat Kohli also worked up a sweat in the nets.

After being benched for the team's prior two limited-overs tours to the West Indies and Zimbabwe, Kohli is now back with the Indian squad. In his six international batting appearances since the IPL, the 33-year-old has failed to score 20 runs, which indicates that he is going through a slump with the bat.

The India great, however, is expected to come back strongly after the break, as the hopes of the fans. On Sunday, August 28, India will face their bitter rivals Pakistan in a pivotal match that will serve as the opening round of the Asia Cup. Kohli is anticipated to make his comeback.

On the sidelines of their respective training sessions in Dubai, the players from the two teams got to know one another before the game. Kohli first spoke with Pakistan captain Babar Azam before moving on to the team's batting coach and legendary cricketer Mohammad Yousuf.

Before ultimately deciding to separate ways, the two had a brief chart.

Yousuf supported Kohli during his bad patch earlier this year, stating that every athlete experiences setbacks at some point in their career. He also compared Sachin Tendulkar, a legendary batsman, to Virat Kohli. "Every player goes through a lean patch and Virat is no different. However, he has been sensational in the last 10 years and has dominated cricket like Sachin Tendulkar," In a conversation with Pakistani news outlet ARY News, he said.

"Scoring 70 centuries is not an as easy task. For me, he is the number one player in the last 10 years."

India is a member of Group A for the Asia Cup together with Hong Kong, who on Wednesday defeated the United Arab Emirates to secure its berth in the continental competition. Afghanistan and Sri Lanka square off in the opening match of the tournament on August 27.