Virat Kohli's Reaction to Ronaldo's FIFA World Cup Exit
An amazing gesture from the former Indian Skipper Virat Kohli to Ronaldo
Virat's Reaction: The Portuguese football star Cristiano Ronaldo's tearful retirement from the FIFA World Cup 2022 following a quarterfinal loss has touched a nerve among the world's top athletes and public personalities.
One such star was Indian cricketer Virat Kohli who sent a poignant homage to Ronaldo. Following Morocco's 1-0 victory over Portugal, videos and pictures of an emotional Ronaldo making his way back to the team dressing room have gone viral, leaving many football fans worried that the legendary player may have played his final match for Portugal.
Ronaldo has left the matter open for interpretation, even if he hasn't said whether he'll play for Portugal again or not. One of Ronaldo's biggest supporters, Virat Kohli, published a heartfelt post in remembrance of the five-time Ballon d'Or winner Ronaldo.
Virat Kohli's Post for Cristiano Ronaldo
After Ronaldo's exit Virat Kohli on his Instagram tweeted saying "No trophy or any title can take anything away from what you've done in this sport and for sports fans around the world. No title can explain the impact you've had on people and what I and so many around the world feel when we watch you play. That's a gift from god. A real blessing to a man who plays his heart out every single time and is the epitome of hard work and dedication and a true inspiration for any sportsperson. You are for me the greatest of all time."
Virat Kohli's Instagram Post: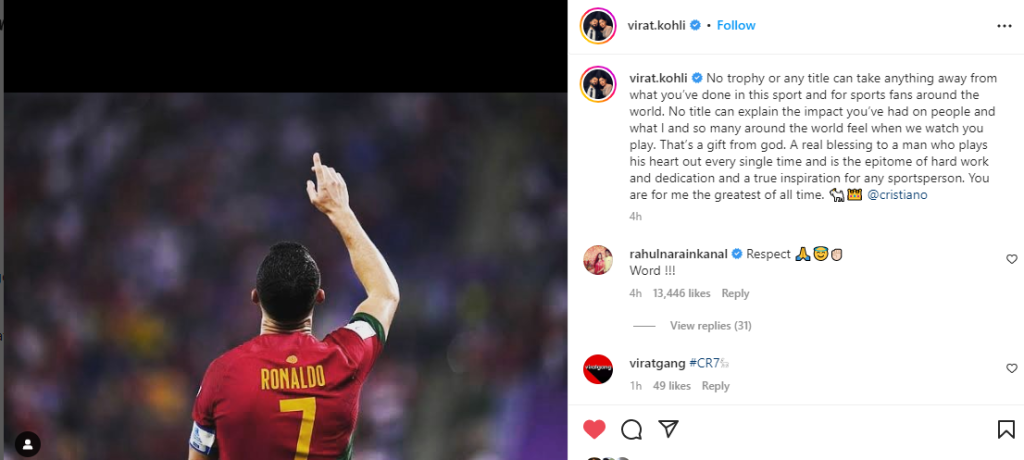 IND vs BAN Virat Kohli's Recent Performance
Virat Kohli scored his 44th ODI century against Bangladesh on Saturday in Chittagong, snapping a seven-match century drought. By doing so, he became one step closer to Sachin Tendulkar's 50-over cricket record for the most hundreds (49) made. With his 72nd international century, Kohli also ended Ricky Ponting's tie for the most international centuries. Tendulkar, known as the "Master Blaster," is the only player ahead of him, having amassed 100 centuries over the course of his illustrious career.
On August 14, 2019, during the third game between India and the West Indies in Port of Spain. Kohli scored his last ODI century. Kohli had 114 runs from 99 balls on that particular day.
IND vs BAN Third ODI of India tour of Bangladesh, 2022
For the second wicket, Kohli and Kishan combined for 290 runs off 190 balls. But the three-match ODI series ended in a 2-1 loss for the Indian side.