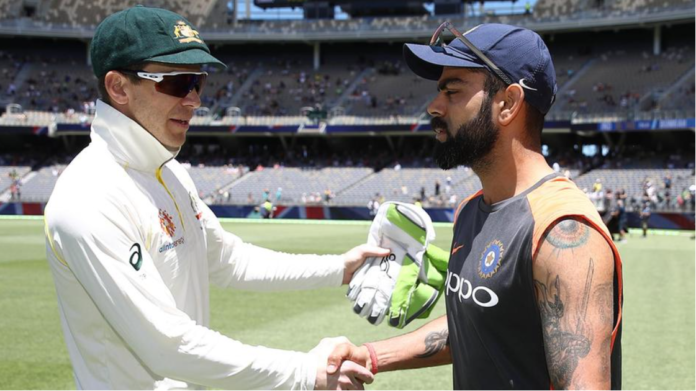 Australian skipper Tim Paine has always expressed his fondness towards Indian skipper Virat Kohli. In a recent interview, Paine stated that Virat Kohli is the best batsman in the world, but he also knows to get under the opposition's skin. Paine added that Virat Kohli is a very challenging player to play against.
Tim Paine Heaps Praises Of Virat Kohli
Time Paine, in a recent interview with Adam Gilchrist and Tim Gossage on the "Gilly and Goss" podcast, was asked to say something positive about Virat Kohli. In reply, Paine had a lot of positive things to be said about his feisty opponent. Paine said that Kohli is kind of a player someone would love to have on their side.
"For Virat Kohli, I've said many times, he seems the type of player you would love to have on your team. He is competitive, he is the best batsman in the world. He is challenging to play against and he can get under your skin because he is so good and he is so competitive. But yeah for me from where I came from, sharing a feud with him four years ago, He is certainly someone I will always remember," Paine said.
Virat Kohli-deficit team India recently won the "Border Gavaskar" trophy against Australia 2-1. However, Paine tried to hide the humiliation by stating that it was India's sideshow that helped them clinch the Down Under series. The statement by the Australian skipper didn't go well with Indian fans. Paine was brutally trolled on social media for his ignorant remarks and his attempt to take the credits off India's historic win.