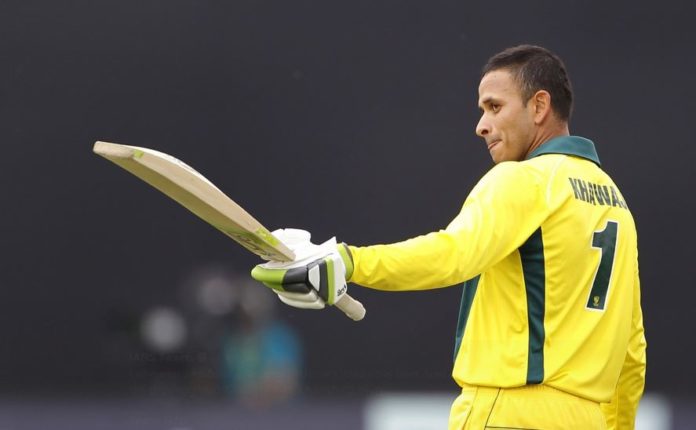 Usman Khawaja is ruled out of the ICC World Cup 2019 because of hamstring injury during Australia's round-robin clash against South Africa.
Coach Justin Langer, on Sunday, confirmed that Khawaja will be out of the field for three to four weeks and was forced to be out of the Semi's against England in Birmingham on Thursday.
"Ussie's got a hamstring strain so he'll be out for probably three to four weeks which is a real shame but we have to work hard on getting him up for the Ashes now. Such a pity for him, he's been so integral to how we've been playing. Like Shaun [Marsh] I feel sad for him that he's going to miss the World Cup semi-final." – Langer said.
Khawaja who came in at No.3 during Australia's chase of 326 against South Africa, was injured at the fifth delivery in his innings. He later came to bat when Australia was seven down and needed 51 runs. Having earlier scored six runs, he added 12 more before dismissed by Kagiso Rabada. Australia lost the match against South Africa by 10 runs and ended their campaign at the second place of the points table.
Matthew Wade was brought as cover for the injured Khawaja and now will await the approval of the ICC's Event Technical Committee to include his name in the squad.
Marcus Stoinis was the other person who suffered from the side strain in the same game after Khawaja. This was the second time in the tournament that Stoinis was injured and picked up Mitchell Marsh as his cover.
"Marcus is the same, got another strain in his other side actually so we are working through that at the moment and we'll have to make a decision on him in the next 24 to 48 hours. Not in the final XI yet but Matthew Wade is coming up. He's in great form, he's had a great 12 or so months back home but he's also just scored two hundred in one-day cricket so he's in great nick. And Mitch Marsh is going to come on standby for Stoinis to see how he comes up." – Langer added.
"Of course it's frustrating but it's also the business we're in, it's a sport and all the teams have had injuries. You never like to have injuries at any time, let alone at the business end but it's ok, we'll deal with it. I've said all along we'll keep dealing with it, we've dealt with it for the last 12 months. In all circumstances, and as difficult as it is for the boys in the team, we'll deal with it," Langer said.