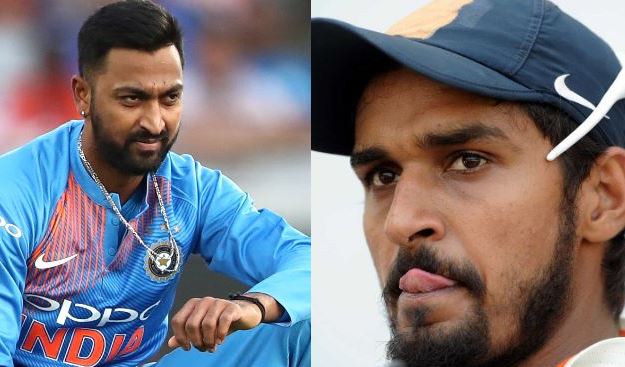 Deepak Hooda has now officially left the Baroda Ranji team and joined Rajasthan for the upcoming season. Previously Deepak Hooda has got into a banter with his teammate Krunal Pandya and after that incident, the Baroda cricket board has suspended him for the whole season under disciplinary action. let's look at Why Deepak Hooda Exits Baroda
Deepak Hooda Exits Baroda
This incident happened exactly 6 months ago and now Hooda has chosen to exit the side for the upcoming 2021-22 season – which is all set to start from October. After Hooda's official announcement – many cricketers and fans have pointed to the Baroda team and termed as it will be a big blow for the side.
Baroda Cricket Board has given an official No Objection Certification for him to join the Rajasthan Side.
Leaving Deepak Hooda Will Be a Huge Loss For Baroda cricket – Irfan Pathan
Former Indian pacer Irfan Pathan has expressed his disappointment through a tweet and said – "It is definitely a sad feeling to quit Baroda, for whom I have played throughout my career. But I spoke to my coaches, well-wishers and thought this was the right decision for me,"
How many cricket association will loose out on a player who is in the Indian team probables list? Deepak Hooda leaving baroda cricket is a huge loss. He could have easily given his services for another ten years as he is still young. As a Barodian It's utterly disappointing!

— Irfan Pathan (@IrfanPathan) July 15, 2021
Fans took over Twitter and expressed their anger towards Krunal Pandya. Twitter is completely filled with memes against Krunal – as fans think he is the reason behind this.
However, Deepak Hooda will be seen playing the 2nd phase of IPL 2021 for Punjab Kings.
Here's How Fans Reacted After Deepak Hooda Announcement:
Shame on Baroda Cricket, merely for the sake of this low level Cricketer Krunal they lost Hooda. They lost Diamond for merely a fancy rock. Loser Krunal Pandya.

— Amit Padmawar (@amitpadmawar) July 15, 2021
In domestic cricket news, Deepak Hooda quits Baroda, but was on expected lines after his fall out with skipper Krunal Pandya

— Nikhil Bapat (@BapatNikhil) July 15, 2021
Deepak Hooda >>> Krunal Pandya

— Adwait Pendse (@AdwaitPendse) July 15, 2021
Deepak Hooda leaves Baroda cricket association, huge loss for them considering the form he has been in IPL 2021.

— Johns. (@CricCrazyJohns) July 15, 2021
Big loss for Baroda, don't know who was at fault but in the end it was the Baroda domestic team that would suffer at the hands of the Pandya-Hooda rift.

— Udit (@udit_buch) July 15, 2021
Someone at BCCI loves Pandya brothers, they were allowed that whole drama in a live game on krunal's debut, so I am not expecting much for Hooda

— A comment & 3 slow 👏 (@krishnavallabh) July 15, 2021
Shocking really 🙏
Loss of Baroda cricket, Deepak Hooda played more first class games than Pandya's brother.. Yes definitely as a Association massive loss 👍🏏🏏

— ThirdEye (@ThirdEy80982744) July 15, 2021
How many cricket association will loose out on a player who is in the Indian team probables list? Deepak Hooda leaving baroda cricket is a huge loss. He could have easily given his services for another ten years as he is still young. As a Barodian It's utterly disappointing!

— Irfan Pathan (@IrfanPathan) July 15, 2021
Got to hear that Deepak hooda had left baroda team and the credit goes to krunal Pandya… It seems @BCCI doesn't care about the attitude of players… The players like krunal affect the dressing room @SGanguly99 @vikrantgupta73

— Ayush Rastogi (@AyushRa61201932) July 15, 2021
Deepak Hooda has decided to leave boroda cricket to play against krunal Pandya and take his sweet revenge#Cricket@FarziCricketer @LoyalSachinFan @internetumpire

— Hanvith Vytla (@Hanvith7) July 15, 2021
Also read: DK's Humorous Hints At Keeping Wickets In Practice Match