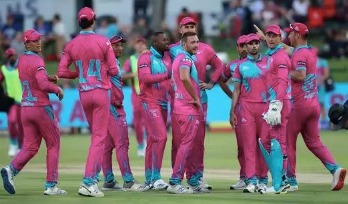 The Paarl Rocks played some beautiful cricket in the inaugural edition of the MSL and ensured a Knockout spot was sealed. Luck was not in their favor, however. Due to rain, the Eliminator match was abandoned against the Jozi Stars. As a result, as they were third on the board and couldn't make it to the final.
But this time, they ensured that such blunders would not happen by winning their last league game. It was a high-intensity battle with both teams fighting for a final spot against the Nelson Mandela Bay Giants. It was the Rocks who kept their composure under high-pressure situations.
In this vital fixture, the 12-run win helped them push the Giants from the top spot. Although both teams have 12 points each, there is a slightly better NRR for the Paarl Rocks.
Now, they are going to host the final. The Nelson Mandela Giants are now going to have to take the longer path and fight at home in the Eliminator. It was a complete Paarl Rocks team effort.
After being asked to bat first, the way they pulled things back, ensuring they had control over the match, was commendable.
Paarl Rocks pull off a heist with their spinners
Faf du Plessis felt they needed to go for the bonus point in their last game after the defeat in the previous game against Durban Heat. But luckily that wasn't needed. Before being dismissed in their 30s, both openers supported the Rocks with a successful stand.
The Giants of the Nelson Mandela Bay had a good start in their chase. They initially seemed to be in a good position, but the spinners pulled them back. In his four overs, Bjorn Fortuin conceded just 19 runs.
On the other side, Tabraiz Shamsi picked up two wickets and gave away 25 runs. With his 58, Heino Kuhn tried hard but had no support from others.

Here is how Twitterati reacted:
#msl2019 Usuru Udana…take a bow. Great sportmanship pic.twitter.com/h4gp7R8dNS

— lwaz (@LwaizakaM) December 8, 2019
What an answer from FAF Du Plessis 🙈😂😄#MSL2019 pic.twitter.com/8snEuMEop2

— Vinesh Prabhu (@vlp1994) December 8, 2019
Congratulation #msl2019 #Cricket pic.twitter.com/m6qnX8emHI

— vinay kapoor (@vinayka59670035) December 8, 2019
Paarl Rocks WIN and secure a home final in #MSL2019! This has been a fantastic game of cricket, as they defeated the in-form team, Giants by 12 runs #MSLT20

— ThePoppingCrease (@PoppingCreaseSA) December 8, 2019
So Paarl Rocks make it to the finals of #MSL2019. Unfortunate to miss out on finals last year because of an Abandoned eliminator.

Which means another Western cape team had made it to the finals again.

Hope we could win it this time.

— Prashant Vangap🇮🇳 (@Prash_Royce) December 8, 2019
The @Paarl_Rocks will host the #msl2019 final! Well deserved! The team deserves it but most importantly the Paarl supporters deserve it. This will be brilliant for the tournament and South African cricket ❤

— Mthoko Ntshingila (@Mnchingy10) December 8, 2019
Well done to @Paarl_Rocks, the score became a giant one for @NMB_Giants to chase. #msl2019

— Rahlagane Masemola (@SunnyMcLion) December 8, 2019
@NMB_Giants We need to chase better gents. We left too much to do. Let's go!!! Next stop, the Final!#nmbgiants#msl2019

— Assistant To The Regional Manager (@PrinsFrancisco) December 8, 2019
What did Marco Marais do to Heino Kuhn guys ? 😂😂😂😂😂😂💔#msl2019

— MisouL (@MisouL_) December 8, 2019
If Udana doesn't play the #IPL2020 I don't know what needs to happen. He is magnificent in the 'death' #msl2019

— KINGPROKID (@MazwiZuma) December 8, 2019