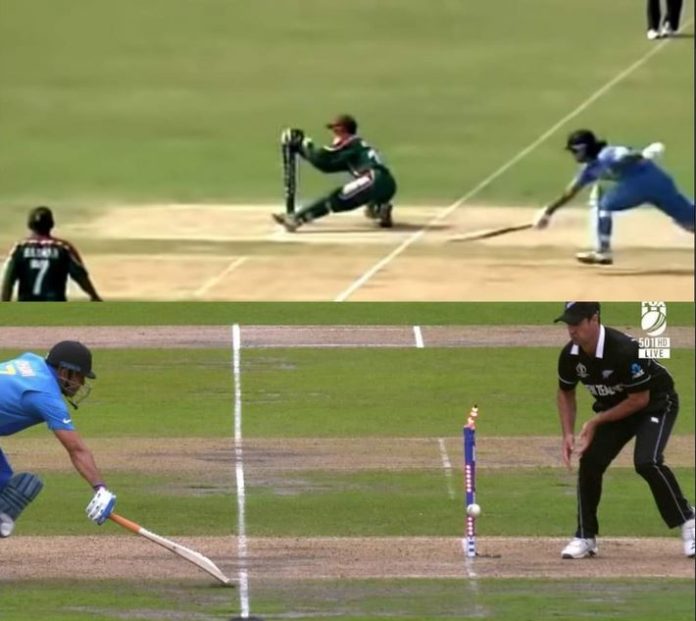 The semi-finals between India and NewZealand went on a hot seat at Old Trafford, Manchester. India had to chase 240 when they were at a tough situation with a loss of 3 wickets in the 4th over.
Dhoni was the only hope for Team India as the Top order players Rohit, Kohli, and Rahul were knocked out for a single-digit score.
Dhoni came to the crease when India was struggling to make runs. India was at a desperate stage with the loss of wickets.
Ravindra Jadeja played an exceptionally Innings, were India's hopes on the match was reborn. Dhoni in Partnership with Ravindra Jadeja took the match to standby with a score of 208.
Dhoni who went on with his own strategy of play moved on with singles and doubles. Dhoni was about to make a match-winning innings in the last overs and tried his best to chase the score but Unfortunately, he was run out when he was trying to make 2 runs where he felt that making runs were very crucial at that point of time.
All the Indian faces went blank in the stadium by Dhoni's run-out in a crucial phase of the match where India needs 25 runs in 10 deliveries to win the match.
In spite of the greatest efforts put by the Indian team, they have ended up with a loss of 18 runs against New Zealand. Dhoni's run-out has made a fall off for Indian team.
Have a look at the controversial Run-Out.
WHAT A MOMENT OF BRILLIANCE!

Martin Guptill was 🔛🎯 to run out MS Dhoni and help send New Zealand to their second consecutive @cricketworldcup final! #CWC19 pic.twitter.com/i84pTIrYbk

— ICC (@ICC) July 10, 2019
After a heartbreaking defeat of India against New Zealand, a video tweeted by the Indian fans has been going viral on the legality of the ball where Dhoni got run-out.
The picture and the video which was tweeted shows a small graphic where 6 New Zealand players were standing outside the ring. According to ICC rules, only 5 fielders should be out of the 30-yard circle in the 3rd power play.
Indian fans have busted out on the umpiring skills put forward by the ICC. This was not for the first time umpires made neglect on the no-ball which would have changed the complete match strategy.
If the umpires would have made a proper decision Dhoni would have a no-ball and India would have been in a different phase.
"Dhoni started his career with a Run-OUT and May end his career with a Run-OUT TOOOO."
All the Indian fans were out of their minds after looking into this video of a no-ball for Dhoni instead of run-out.
Twitterati's all around globe slam the umpires. If the umpires would have seen it as a no-ball then Dhoni would have got a free hit.
Here are a few tweets.
@bhogleharsha cleary martin guptil came running form the boundary …. it was a no ball… that part of the field had no fielders inside 30 yard… so 6 fielding outside 30 yards… #umpiring was #hopeless this #ICCCricketWorldCup2019

— Binoy Modi (@binzy24) July 10, 2019
There were 6 fielders outside the 30 yard circle when Dhoni was run out. Shame on Umpires for this level of awareness and that too in World Cup Semi-final 👿👿👿 pic.twitter.com/ocA8xSuNbz

— MasterYoda (@PrasidthJ) July 10, 2019
https://twitter.com/AnchorAnandN/status/114897756+https://twitter.com/LacchiOrange/status/11489852271689973766033698818
It's so pothetic #umpiring. They are representing India. Indians have faith in player but we are living in 21st century.Things are just on our finger tips and this kind of blunder mistake but we can undo the mistake. pic.twitter.com/YTDzWH9dfF

— दीpak गुupta (@deepak_445) July 10, 2019
Take time and appreciate @ICC what an amazing #Umpiring in @cricketworldcup
👏👏👏👏👏
Well Done ICC.
6 players outside the 30 yard circle and that was a legal delivery.
👏👏👏👏#SemiFinal1 #INDvNZL

— ।।अनन्य प्रताप सिंह।। (@APSAnanya) July 10, 2019
Hey @ICC can you explain??#umpiring #poor #decisions #INDvNZL pic.twitter.com/4yZukXepos

— gopal kukadiya (@gopal_1993) July 11, 2019
Another evidence of poor #umpiring in the #CWC19
6 fielders outside 30 yards goes unnoticed at one of the crunch moments of #IndVsNewZealand
Would have been deciding.
What say? @ICC @cricketworldcup @BCCI @ICCMediaComms #CricketWorldCup #SemiFinal #ICCWorldCup2019 pic.twitter.com/dngauT0BUc

— Suseendran B (@SuseendranB) July 10, 2019
What A great Umpiring Skills….The Ball Msd became runout should be given as NoBall…& Dhoni should have played and India have Won….What A Great WC?What a great exhibition of Umpiring skills???? pic.twitter.com/1Xthq2Qyjv

— [email protected] (@LacchiOrange) July 10, 2019