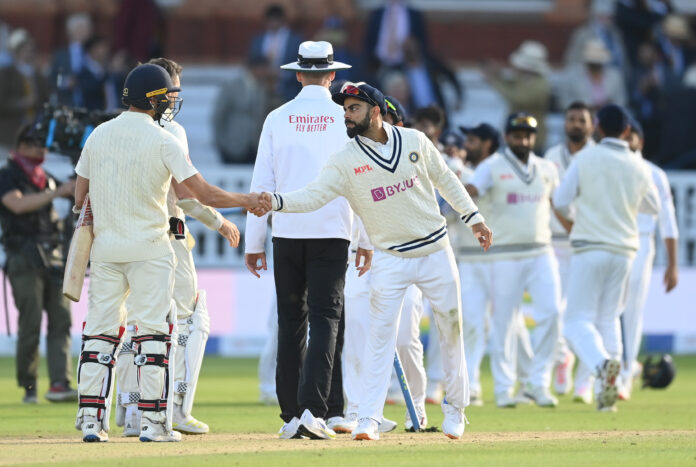 England levelled their ongoing five-match series against India after a dominating win in the third Test at Headingley. After an impressive performance at the Lords', the Indians failed to shine in the 3rd game. James Anderson-inspired English side dismantled the Indian batting line-up in both the innings. The loss has lifted plenty of fingers upon the Men in Blue and especially on skipper Virat Kohli.
'We Didn't Make Good Decisions as a Batting Side' – Virat Kohli
Indian captain Virat Kohli accepted that the Indians failed to put on a good batting performance in Headingley as compared to the hosts. England wrapped up the game at the start of the 4th day itself as the Indians looked hapless at Leeds. Virat Kohli and Co. got out for just 78 runs in the first innings.
The Joe Root-led side racked up a total of 432 runs in the first innings with a total lead of 354 runs for the Indians to break. The visitors played well on Day 3 but couldn't stand the English heat the next day. Virat Kohli admitted that the Indian batsmen succumbed to the pressure of the English bowlers.
"Basically, I will put it (collapse) down to scoreboard pressure. We knew we are up against a massive (354-run) lead after getting bowled out for 78. The pressure from English bowlers was too much, they bowled at areas which troubled us," said Kohli in the post-match presentation ceremony.
"Batting collapses (like 78 all out in first innings) can happen. The pitch was good. Pressure from their bowlers was relentless, their discipline forced us to make mistakes. It was quality bowling for long periods," added Kohli. "It was difficult to deal with spells where we weren't getting runs. We didn't make good decisions as a batting side," said the 32-year-old who was dismissed by Ollie Robinson (5/65 and man of the match) for 55 on Saturday.
Virat Kohli added that the Indian side does not have a batting depth. He said that the top and the middle order batsmen will have to take the initiative and make sure that the team is in the right place batting-wise.
"You could say that we don't have enough batting depth, but the top order has to give enough runs to the lower middle order to step up. The lower order can't bail the team out all the time. We don't have much other than the batting in the second innings to take from this game in terms of positives," said Kohli further. "Other than batting in the second innings we don't have many positives," he added.