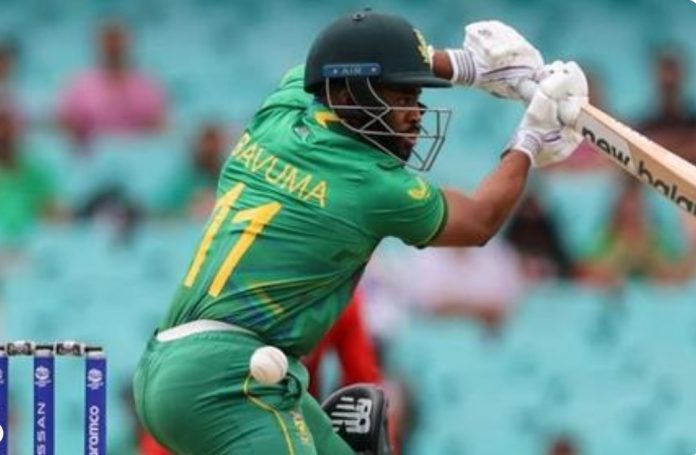 Temba Bavuma's odd case of underwhelming captaincy and non-performing captains
Temba Bavuma is carrying a load that no other competitor in this competition. It has reached these heights as a result of a confluence of South Africa's complicated socio-political conditions.
We will discuss the breadth of non-performing captains in due course, but first. let's look at its historical roots. Which date back to the days when amateurs often hitters with varied degrees of skills. Would almost always take the lead against professionals. The upper classes utilized this idea to justify their dominance over those who dared to demand payment for their time. The dread.
If, however, the person benefiting from it is the first Black African man to lead South Africa in international cricket. Should you vehemently question the traditionally upper-class English construct of the supreme captain?
Race will be a key factor in determining Bavuma's future as a T20 player and captain. Even though he didn't win the captaincy due to his race. Although Bavuma isn't the only T20I skipper having trouble right now. Aaron Finch and Kane Williamson both have stronger T20 backgrounds. They can be a count on to turn things around. Hendricks, a player of colour who is having a fantastic year in T20s with an average of 42 and a strike rate of 144, is being kept out of the lineup by Bavuma, who has a T20I strike rate of 115.
Although Bavuma's race may not have earned him the captaincy. It will play a significant role in determining his future as a T20 player and captain.
However, dealing with underwhelming leaders has always been peculiar in cricket. It is essentially up to them to drop themselves once the 15s Squad has been chosen and the captain has been given the reins. Coaches are aware of the dangers of using force. Particularly in Bavuma's instance. It is not improbable that the notion that Black Africans are not natural leaders will be disproven. Which will serve as more incentive for selectors to support him and for him to continue fighting.
Not that any leader likes to question their own abilities.
By questioning their abilities, they wouldn't have progressed as far as international cricket. However, you have to wonder if one or more of Bavuma, Finch, or Williamson isn't secretly wishing that the choice was made for him. They don't want to be trapped in the middle of a game. Where they can neither hit out nor get out so that other batters can make the most of their time at the wicket in the tournament's major games, which are still to come.
Trying to decide whether you should be playing yourself might be a lonely endeavour. Hopefully, Bavuma is keeping wise advice. Dropping yourself can be a show of weakness and goes against the natural urge of exceptional competitors. You must also consider the player who is resting and what he may add to the club.
Some claim that the pruning of the 15s to 11 is the most crucial task a captain must perform. 
In today's amateur leagues, the captain first establishes a WhatsApp group, locates the schedule, recruits enough players. Also, follows up with them regarding team dues. Then considers the batting order and bowling substitutions. They typically don't need to choose an XI because just that many frequently show up, even though more have checked in.
The captain's job is less well defined at professional levels. They choose the XI and run the game for some teams, while others just give them control on the pitch. In other cases, selectors listen to them when choosing the XV. However, at the highest levels decisions are largely made beforehand. Teams' chances of winning depend more on the strength and depth of their bowling attack the longer the format. Players are increasingly responsible for their own actions, and coaches and support staff are taking on a larger role in the management of T20s.
While maintaining appropriate body language and moulding the team in their own image are still important aspects of the job description.
We still prefer the idea of having a single boss who is ultimately responsible. This is the role of the captain in cricket; they stand up when their team loses and take the glory when they win. It may also make sense because the coach doesn't actually experience the conditions in the middle of the field. Also, having a sense of the game is essential for making vital judgments. It is predicated on the idea that for example: Keshav Maharaj, as vice-captain cannot make those choices. Yet, if Maharaj is appointed captain.
The timing may not be great or perhaps it would be too disruptive. But cricket needs to have this discussion about how significant captaincy. The effect of captaincy cannot be quantified by data. It is Cricket's big issue when team's win-loss record is attributed to the captains. However, it ignores the team's or the opposition's strength and places unwarranted praise or blame on the skipper.
Always ask yourself, "What would Sri Lanka have done?"
Whenever anything seems absurd. Sangakkara, Jayawardene, and Mathews were part of a leadership group, therefore it wasn't all that important who was officially captain. To escape an over-rate penalty, they once changed captains in the middle of a tournament. With Lasith Malinga leading the team, they won a T20 World Cup. Dinesh Chandimal eliminated by a slow overrate penalty as non-performing captain. Afterwards unable to reclaim his position.
IND vs South Africa ICC T20 match at Perth on 30th October 2022.
Now that the ICC no longer bans leaders for over rates, here's another thing to consider. What would that cunning Sri Lankan team have done if their skipper was underperforming.