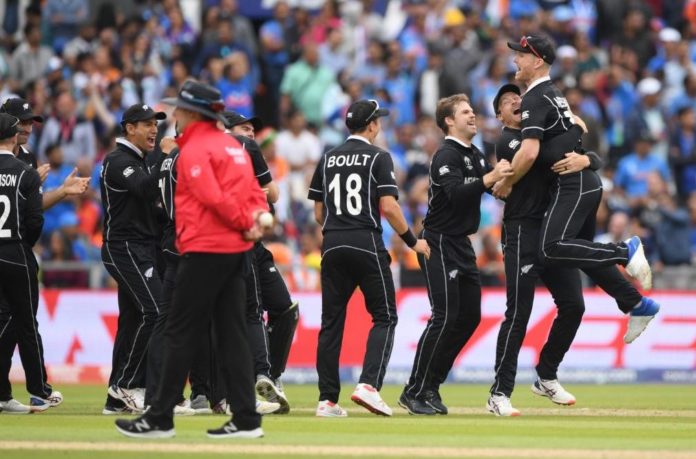 Virat Kohli and Co. failed to perform on a crucial stage of the innings and the Blackcaps make the most on the field and clinch a clinical win against India.
The win percentage of New Zealand over India not just number of runs or number of wickets, its the matter of ticket to final at The Lord's.
The 1st semi-final between India vs New Zealand is not less than a Suspense Thriller.  The match went for two days and each day belong to each of the teams.
On day 1 India had restricted New Zealand to a below-par score and on the Day 2 they have given some tough time to Indian Batsman.
Day 1: Indian Bowlers Bhuvi, Bumrah and Jadeja had a good time with the ball and suffocated New Zeland batsman from getting into the flow. They have broken the partnerships at regular intervals and they were very successful.
Day 2: This will be a short time nightmare for the Indian players because they have performed excellently in the group stages but when it comes to a huge stage they have failed terribly against the Zealand bowlers.
Top three Indian batsman was out for a tiny score of '1'.
Matt Henry was the bowler who took the anchor role for the New Zealand innings and took three crucial wickets.
Jadeja was the lone standing Knight for India and Dhoni was supporting him from the End. Jadeja has his highest score of the world cup in this edition of 77 runs in 59 balls.
Emotions run high on both sides, New Zealand has shown that it is capable of proving themselves on a big stage. And a good lesson learned for Team India.
Kane Williamson | New Zealand Captain:
It's a different feeling, to be fair. The surfaces and the way we had to skin it, has been different from the last World Cup we experienced. Have a really good bunch of guys. A tough game, tough semifinal and really pleased to be on the right side of things.
It was really tough. We had to assess conditions quickly and I think both sides felt that it wasn't a high-scoring track. We thought that 240-250 will help us to put India under pressure. The guys were able to do that in the middle and at the back end without going too hard.
Lot of it was on the conditions, with the rain around yesterday and whether it changed the conditions. With the new ball, our bowlers try to move the ball off the seam or in the air. Need to put pressure on that world-class batting line-up of India. We knew that when the track slowed down, we had to squeeze.
They showed why they are a world-class side when they took it really deep to a position where they could have won it through MS and Jadeja. Our character was tested and we come out on top. We've seen conditions be really tricky at times and in some games, we didn't play our best cricket but guys weren't disheartened and backed ourselves.
On a particular day, anything can happen and it was a game of small margins. Pleased to come across the line. Indian supporters have been really good.
Virat Kohli | India Captain:
The first half, we were very, very good. With the ball, in the field, we were spot on. We got what we needed at that point. We thought we had restricted New Zealand to a chasable score on any surface but the way they come out with the ball in the first half-an-hour was what made the difference.
We knew we had a good day yesterday and were proud of it. Had a good time in the morning today as well and we had momentum with us. Credit to the New Zealand bowlers, they were really good with the new ball and hit the right areas.
I think it was the skill level on display (from NZ bowlers) was there for all to see. I think Jadeja had a really good couple of games and it's his performance today that's a huge positive for his skill-set. MS had a good partnership with him, and again a game of small margins, run out by a small margin. Always feels bad when you play well all tournament and then 45 minutes of bad cricket puts you out.
New Zealand deserves it, they put us under more pressure. At times, I think our shot selection could have been better. Otherwise, we played a really good brand of cricket. Really proud of the way we competed throughout the tournament.
As I said, come the knockouts, it's anyone's game and New Zealand showed more composure. They were braver than us and deserve to win. Thanks to all the fans, thanks for coming out in huge numbers.
Matt Henry | Man of the Match | 10-1-37-3:
In the break, we talked about making sure we do the best we can and play the way we wanted to play. We started well with the ball and created a lot of pressure. We had to ask a lot of questions against that world-class batting line-up.
We knew we had to create pressure against that batting line-up but we also knew that this was a difficult wicket to bat on and it was holding up a little bit. We brought ourselves on and if we could create a few early chances, anything could happen.
Hardik and Dhoni, the way they batted with Jadeja to come in, we know they are world-class finishers. We needed to finish off well and get them out before it went too deep. Very special to earn ourselves a Lord's final.
Thanks to all the New Zealand supporters out there. We are looking forward to the final on Sunday.