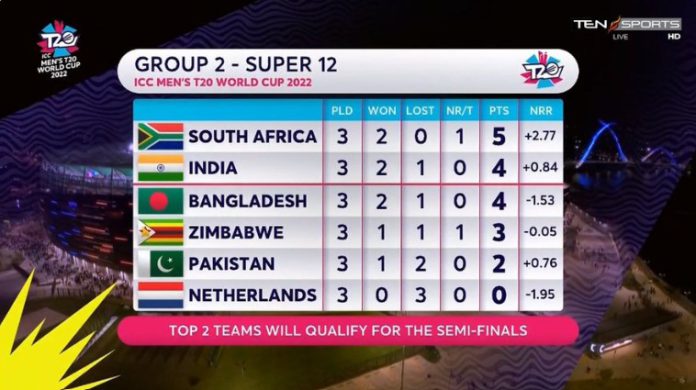 The T20 World Cup's events shocked cricket critics all around the world. We decided to stop making predictions and just go with the flow because there were so many unexpected events that we had never imagined.
In Group 2, we predicted that Team India and Pakistan will be the teams to qualify for Semis. Our prediction went right but the journey to their qualifying was not as smooth. South Africa was a big hurdle for Pakistan who in turn beat India who were the first one to qualify from the group.
But let's see how the Group 2 of the Super 12 of the T20 World Cup had its journey:
Group 2 T20 World Cup 2022: India on the Top
India were the first team to qualify for the Semis from Group 2. The way team displayed charisma in their first match against Pakistan, they showed everyone, they are not here to take things lightly. Then they lost against South Africa and it was not a pretty sight, The team showed the worst batting performance but they soon recuperated and now they are on fire. They have qualified for the semis after beating every team on their way. Now their next target is England who are in great form. Let's see how it flares out.
Group 2 T20 World Cup 2022: Lucky Pakistan but Unlucky South Africa
Pakistan had all the luck in the world in this World Cup. They had to face one of the biggest turnarounds of the tournament when they lost to Zimbabwe after losing their first match against India. Their chances to qualify became bleak and that is when their luck came into play. On the last day when South Africa, who had beaten every team on their way except Pakistan, lost to the Netherlands on the last day of Super 12. This was again one of the biggest turnarounds of the ICC tournament history and that is when we knew the winner between Bangladesh and Pakistan will qualify. It was not a tough thing for PAK to dismiss Bangladesh and they qualified for the semis.
Group 2 T20 World Cup 2022: Stagnant Bangladesh
Bangladesh did not show any form earlier to T20 World Cup. The team was struggling to win any game but their World cup journey was not as bad as everyone thought it to be. They won against Zimbabwe and Netherlands, the two teams they were expected to beat. Apart from that, they posed tough competition to India and it was something to be joyous over for them. They played good cricket and they should be proud of it. Although they should check the quality of cricket they have been playing for years. There has been little growth which could have been even better.
Group 2 T20 World Cup 2022: Dark Horses Netherlands and Zimbabwe
The Netherlands and Zimbabwe were the dark horses of the group. They won against the toughest competitions, South Africa and Pakistan bringing upsets like no one had expected. Even though they lost all other matches, but their growth has been immense in the past one year and they should be proud of the quality cricket that they are playing. The T20 is their format and its great to see them adapt to it so well.
IND VS ENG & NZ VS PAK
Next up we have India pitting against England and Pakistan fighting Newzealand in the Semis. Both the teams have to face seriously tough competition and play their best cricket to ensure they reach the finals. Will we see India vs Pakistan in the finals? We can only tell after the games on Wednesday and Thursday.