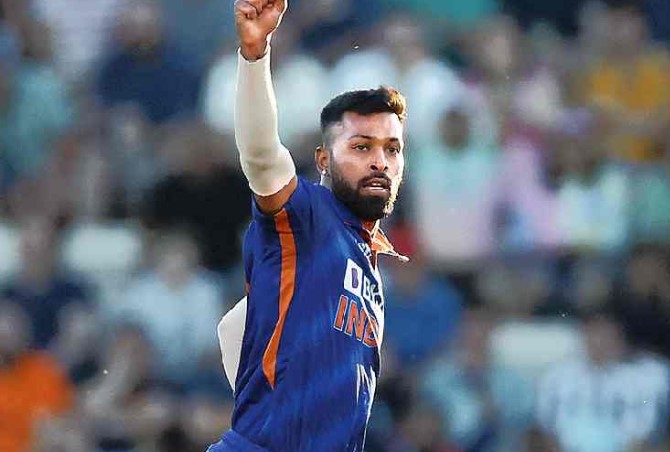 Everything changes with time, and Hardik Pandya is a prime example of this. Due to a persistent back issue, the all-rounder was benched and had to take a sabbatical. He is now in line to succeed KL Rahul as the Indian T20 team's permanent vice-captain. In only five months, he has seen a meteoric rise as a result of his IPL 2022 exploits and stellar performance with Team India.

Hardik Pandya was chosen as vice-captain for the first time for the South Africa series at home. He has great bat and ball skills. When that, India won the series after he was selected as the team's captain for the Ireland visit. Due to KL Rahul's ongoing ailment, Hardik is now in line for greater promotion.

Hardik Pandya will be chosen as the vice-captain for the T20 World Cup when the team is revealed on September 15.

"Hardik is a world-class player, and it's wonderful to have him back in the lineup at full strength. The selectors will decide if he will be chosen vice-captain. However, he is already the group's leader. He is an all-arounder and is aware of both circumstances. We observed his exceptional leadership abilities throughout the IPL. He will succeed without a doubt, a senior BCCI official told InsideSport.

Hardik scored 487 runs in 15 games during the IPL 2022, averaging 44.27 and having a 131.27 strike rate. He was proficient with the ball as well. Gujarat Titans won the championship because of his outstanding performance on 3/17. At an economy rate of 7.27, he finished with 8 wickets.

He has prospered ever since he joined the India team again. He has scored 253 runs at an average of 31.52 in 12 games since his comeback. He has also had success with the ball, claiming 8 wickets for an 8.46 economy rate.

KL Rahul will however continue to serve as the ODI and Test teams' deputy captain. In the absence of Rohit Sharma, he will captain, with Jasprit Bumrah serving as vice-captain. India was led in the fifth Test against England by Jasprit Bumrah.

But Hardik Pandya's Test career appears to have ended suddenly. InsideSport is aware that Hardik will not be considered for Tests, despite the fact that he has not said if he plans to continue playing in such matches.

Being an all-arounder, it's crucial to control his workload. An all-rounder won't be able to participate in all three formats because there will be a lot of T20s and ODIs coming up. He will instead concentrate on white-ball formats. For the all-rounder positions in tests, we have Jadeja and Shardul, both of whom have performed well. Deepak would also be given consideration for Tests if he recovers from his injury, the BCCI official added.