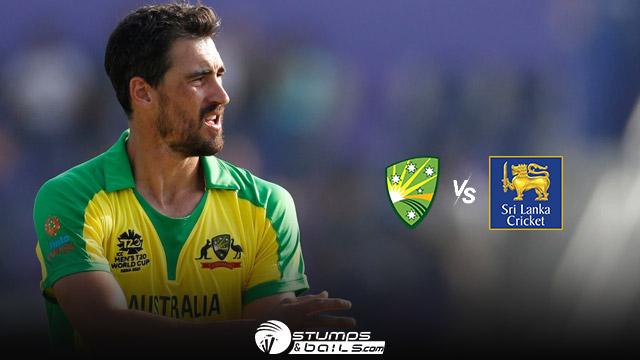 Mitchell Starc, Australia's fast bowler, has been ruled out of the third T20I against Sri Lanka and is doubtful for the early part of the five-match ODI series after receiving six stitches on his left index finger in game one in Colombo on Tuesday.

Jhye Richardson, who filled in for Starc in Australia's T20I team and took 3 for 26 in the three-wicket win in game two on Wednesday, has been summoned into the ODI squad as Starc's replacement.

In the first T20I on Tuesday, Starc lacerated his index finger on his bowling hand. He stretched so far down with his bowling arm in his follow-through that the bottom of his bowling shoes spiked his own finger. He was able to bowl his final three overs and pick up three wickets for a total of 3 for 26.

However, he was ruled out of the second and third Twenty20 Internationals. He will stay with the group and continue to practice, but the wound will take at least seven days to heal, and maybe longer. That will almost certainly keep him out of the first One-Day International at Pallekele on Tuesday.

After shining in his previous Test tour of Sri Lanka, Australia will likely be careful with Starc, since he will be a vital piece in the Test attack later this month. Despite being in the original T20I squad, Richardson was initially left out of the ODI team. He was scheduled to participate in two Australia A four-day games in Hambantota, which would take place simultaneously with the ODI series in Sri Lanka.

Quickly, South Australia Richardson has been replaced by Nathan McAndrew, who has been summoned in from Warwickshire. Meanwhile, Australia assistant coach Michael Di Venuto is sure that Steven Smith can regain form and cement his place in the T20I side's middle order.

Australia will keep Smith in the T20I team, thinking that in the shortest version of the game, the Test hero can reach his full potential.

After a protracted downturn in T20Is, the 33-year-place old's in the middle order has been called into doubt. Smith's last T20I half-century was in November 2019, and he was not required during Australia's drive to the World Cup championship last year, as Mitchell Marsh and Matthew Wade were the batting heroes.