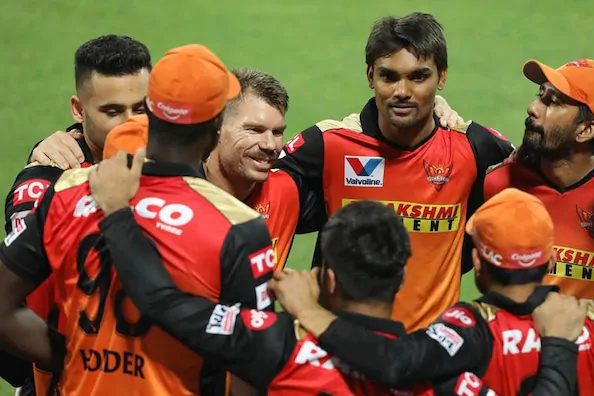 Injury to key players:
SRH entered IPL 2020 knowing fully well that their middle order rested heavily on young Indian players who were lacking in experience and exposure. They had the likes of Mitch Marsh to plug that gap but unfortunately for him and the team, he was ruled out of the tournament in the first match itself. Even though they added Jason Holder to the squad a bit later, the team was clearly behind the 8-ball in the competition.
Just when their middle order was showing resilience and had even won a match on their own (against RR) where Manish Pandey and Vijay Shankar combined forces to chase down a par score that their plans got jolted with Shankar's injury which ruled him out of the competition. This hit their team balance hard and they were falling short of answers.
But clearly, one injury which hit them the hardest was the hamstring injury to Wriddhiman Saha, right before the playoffs. Saha's inclusion in the team had a galvanizing effect on the entire group and SRH managed to win 3 matches back to back against the top 3 ranked teams in the table. But before the eliminator game against RCB, he was ruled out owing to pulling his hamstring and SRH couldn't fill in that loss with his replacement Sreevats Goswami registering 2 ducks in 2 consecutive games.
3 wins in 9 games
SRH didn't get to the best of starts this tournament with victories being few and far between. They lost from position of strength to RCB in their opening encounter and their middle order barring Pandey seemed out of sorts for most of the competition.
While Priyam Garg, Abhishek Sharma, Abdul Samad did show the occasional spark, the onus once again fell upon the shoulders of David Warner and Jonny Bairstow.
But unfortunately even Bairstow couldn't get going this season apart from that one innings against KXIP. His inability to force the pace meant Warner was playing well within himself and SRH couldn't register a rollicking start even with these 2 at the helm.
They were looking down and out with 5 games left in the tournament. 5th consecutive playoff entry seemed like a dream too far
What happened then? 
Like with all good teams who struggle but don't give up, SRH too found a way back into the tournament and how. They made a roaring comeback winning 4 of their last 5 games and 3 in a row to defeat the top 3 teams in the table. They even went on to defeat RCB in the eliminator while displaying smooth professionalism.
How did the miracle happen?
The comeback happened thanks to a masterstroke decision of pairing Saha at the top with Warner. The move meant Bairstow was dropped, Williamson was brought in, but guess what, it proved to be a champion decision which was taken at such a crucial juncture.
Saha and Warner went berserk against DC, while Warner failed against RCB, Saha kept piling the runs and the pair shared an unbeaten 10 wicket stand against MI to handle them their heaviest defeat of the season.
But like all good things, the partnership between Saha-Warner was broken, owing to Saha's injury and Warner failed to click in both these matches, which eventually saw SRH bowing out of the competition.
Star Performers:
David Warner: Captain Fantastic, he led the team from the front as always and became the first player to register 6 500+ scores consecutively across 6 seasons
Rashid Khan: The wizard from Afghanistan troubled all the teams and all batsmen. His economy of under 6 while picking up 20 wickets states how brilliant Rashid was.
Wriddhiman Saha: Criminally underrated, Saha showed in the limited opportunities he was presented with that he had it in him to deliver in the powerplay and beyond.
Special mentions: Kane Williamson, Sandeep Sharma
Value Addition:
Jason Holder: World's Number 1 all-rounder showcased his limited-overs credentials and proved that he could be an asset for the team in the future.
T Natrajan: Now known as Yorker Natrajan, he proved that if you have the talent and skill to survive, no dream is too big.
Disappointment:
SRH's middle order: Year after year, this has proven to be SRH's Achilles heel and this year was no different. It is still a big reason why SRH couldn't go through to the finals this year.
Overall verdict:
It was a season that tested the team on many counts (form, fitness) but they overcame all odds and expectations to finish 3rd in the points table. This is precisely why the fans were more elated than disappointed at not qualifying for the finals. A proud team, and even prouder fan community.