Skyways will be up against Barcelona Gladiators in Match 39 of the ECS T10 Barcelona League. SKY vs BAG is scheduled to be played at the Montjuic Olympic Stadium on Wednesday, February 17 at 7 PM IST. Fans can watch the live streaming of the match on the FanCode app. Here are SKY vs BAG Dream11 predictions, Skyways vs Barcelona Gladiators Dream11 preview, SKY vs BAG Dream11 team, SKY vs BAG Dream11 squads and predicted XIs.
SKY vs BAG Dream11 Preview
Both the teams are yet to bag a point in the ECS T10 Barcelona league. Skyways failed to win the clash against Raval Sporting and Bangladesh Kings on Monday. Skyways are currently on the bottom spot of the points table. As for Barcelona Gladiators, they lost their first ECS clash against Khairan after a tough fight. Nevertheless, Gladiators will enter the clash as the favourites. However, both the teams will eye to clinch their first match of the tournament. It is surely going to be an interesting clash for the viewers.
SKY vs BAG Dream11 Team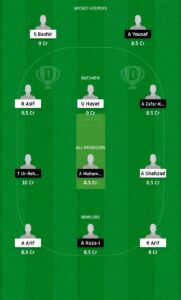 SKY vs BAG Dream11 Predicted XIs
Skyways predicted XI
Adeel Shahzad, Rabi Asif, Adeel Arif, Umer Hayat, Muhammad Naveed, Sharoon Bashir, Babar Ali, Hamad Khalid, Irfan Ali, Rohail Arif and Shehroz George.
Barcelona Gladiators predicted XI
Babar Basharat, Tanzeer ur Rehman, Shahid Nazir, Haroon Salik, Ali Zafar Khan, Muhammad Umar, Ali Raza, Sagar Shahbaz, Nadeem Muhammad, Arslan Muhammad and Ihsan Ullah-Asda
SKY vs BAG Dream11 Full Squads
Skyways full squad
Sharoon Bashir, Rabi Asif, Babar Ali, Umer Hayat, Muhammad Bilal, Hamad Khalil, Adeel Shahzad, Adeel Arif, Zeeshan Bahadur, Jamil Hussain Begum, Jonson Gill, Muneeb Ur Rehman, Temooties Bashir.
Barcelona Gladiators squad
Shahid Nazir, Haroon Salik, Ameer Taimur, Usman Asghar, Sagar Shahbaz, Tanzeer Ur Rehman, Babar Basharat, Zahid Akbar, Muhammad Umar, Farooq Ahmed, Ali Raza, Iqbal Muzzamil, Malik Nabeeb Iqbal, Mohammad Ur Rehman, Muhammad Ali Khan, Ihsan Ullah-Asda, Arslan Yousaf, Nadeem Muhammad, Tahir Nawaz, Arslan Muhammad, Farhan Inayat, Amad Muhammad, A Zafar Khan.
SKYWAYS VS BARCELONA GLADIATORS Dream11 Prediction
Our SKY vs BAG Dream11 match prediction is that Barcelona Gladiators will win the clash.
Disclaimer: Please note that our Dream11 predictions are based on our analysis and they do not promise fixed results.