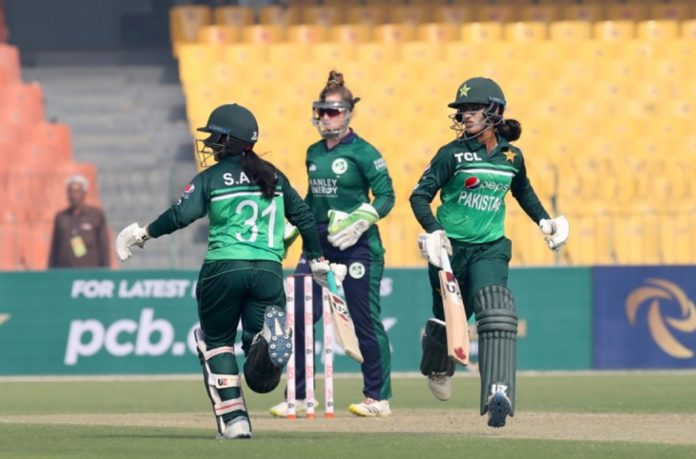 Sidra Ameen continues her top form and sets new world records
Right-handed batter Sidra Ameen from Pakistan currently competes for Pakistan. She became the seventh Pakistani woman batter with the most runs in June 2022 after accruing more than 1000 runs in her ODI career.
Sidra, the main batsman for Pakistan, set a record by playing a marathon inning of 176* in just 151 balls, becoming the player to score the highest individual score for Pakistan in WODIs. She also has the fifth-highest individual score in WODI history with her 176-run knock.
Highest Partnership Record
She also broke Pakistan's record for the highest partnership in the format with her 221-stand with fellow century Muneeba Ali. In a first-wicket stand that added an incredible 221 runs to the team's total. Sidra and Muneeba stormed the Irish bowling attack and took them for plenty.
While ranking at the 16th slot overall on the international circuit, the pair's outstanding 221-run partnership is the most by Pakistan for any wicket in Women's ODIs. The incredible partnership between Sidra and Muneeba, namely for the first wicket, is currently the sixth-highest in ODIs.
Most Centuries Record
The previous record for the most hundreds by a Pakistani batsman is now broken by Sidra Ameen. The flamboyant opening batswoman for Pakistan, against Ireland in the first ODI. Sidra is the only batter from Pakistan to have done so more frequently than any other. And there are only four batters who have surpassed the century mark.
Sidra, who has three hundred in ODI cricket, has lately surpassed Javeria Khan. An outstanding batter with two hundred in 14 years of international play. The Women in Green have also had ODI hundreds from Muneeba Ali and former cricketer Nain Abidi in addition to Sidra and Javeria.
Sidra Ameen ODI Career
Sidra Ameen for Pakistan has played 49 International matches where she has scored 1180 runs with a batting average of 25.65. She has scored three centuries and four half-centuries in her career so far. See her career stats you might feel surprised to see her score 176* runs but the matter of fact is that she is a very good player and key run scorer in the Pakistan team. She has suffered a lot of injuries in her career and that was a huge setback for her.
Pakistan Women Beat Ireland Women by 128 Runs
Having won five of their previous six games Pakistan maintained their unmatched performance at home in the ICC Women's Championship. In the first women's ODI in Lahore, Pakistan defeated Ireland thanks to centuries from Sidra Ameen and Muneeba Ali and a record-opening partnership from them. The victory comes after a 2-1 victory over Sri Lanka in June of this year.