Nick Compton tried to troll Shahid Afridi's Achievement of 37-ball century in ODI cricket but Pakistan fans hit back at the English cricketer in a post on social media
Shahid Afridi declared himself on the international stage by smashing only 37 balls against Sri Lanka back in 1996, a one-day International (ODI).
It was the first hit from Shahid Afridi in an international game and he finished his ton in just 40 balls. Nick Compton tried to downplay the achievement of Shahid Afridi with a sarcastic response on the throwback post of ESPN Cricinfo on Instagram. Compton's reply was not taken seriously by Pakistan fans as they hit back to him.
Compton's comment had made furious to Pakistan fans and he was countered by them to recalling his own performance of test average which was 28.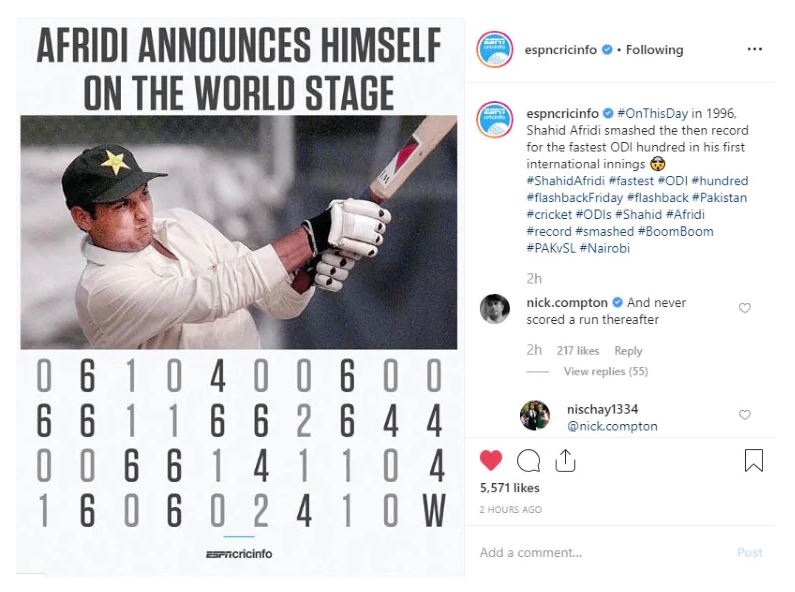 One of the fan's comments was "Hardly anybody knows you".
Shahid Afridi swashbuckling knock of 100 consists of 11 huge sixes and six boundaries at Nairobi and Pak has a  registered a 82 runs victory over Sri Lanka, in which Afridi's knock, played a key role in Pakistan's win.
Afridi's record of hundred in 37 balls was broke by New Zealand's Corey Anderson after 18 years, When a century was smashed in 36 deliveries in 2014 against West Indies.
Anderson's record has not lasted long, where AB de Villiers played an excellent knock of 149 in 44 balls against west indies. In just 31 deliveries 100 runs were smashed by de Villiers in that process.