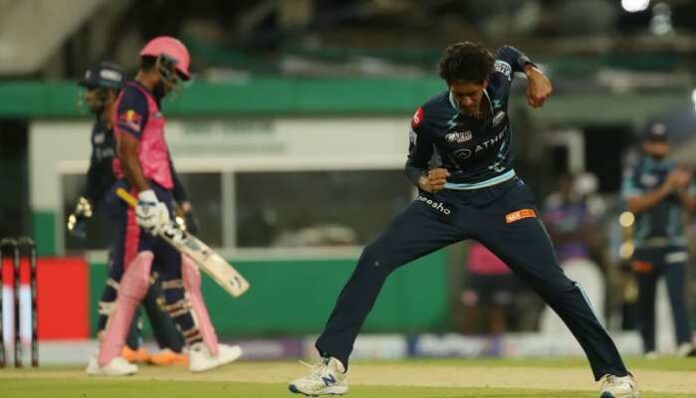 We are in the end week of IPL and today's match has kept us hooked. The contest between the best two teams of the tournament, Rajasthan Royals and Gujarat Titans, is on as they compete to take their place in the finals. Playoff 1 is being played at Kolkata where GT has won the toss and decided to bowl first. In the first 10 overs of the first innings, Rajasthan Royals scored 79 at the loss of 2 wickets. The team scored 37 runs in the last 5 overs losing one batter.
RR vs GT Live Match Updates: 1st Innings 10 Over Update
Rajasthan did not have a good first wicket partnership as Yashasvi Jaiswal got out in the 2nd over scoring just 3 runs. Sanju Samson replaced the young batter and took command of the innings. Together with Buttler, he scored 55 runs for the team in the first six overs. Powerplay restrictions kept the scoreboard ticking. 
Alzarri Joseph bowled the 6th over of the innings and couldn't keep things tight, conceding 13 runs from the over. The 8th over of the innings was bowled by Sai Kishore who couldn't change the momentum for Gujarat and got hit for 12 runs in the over.
The spin maestro Rashid Khan was brought in the 9th over to change things for Gujarat as we saw Buttler struggling even more to play him. He conceded just 2 runs from the over. This shifted the momentum and Sai Kishore struck in the 10 over as Sanju Samson tried to hit him for a six but fell short and got caught at the boundary line.
The run rate at the end of 10th over is 7.90. The projected score at this rate at the end of the innings is 180 runs. Jos Buttler and Devdutt Padikkal are at the crease now.