It will be safe to say that Indian skipper Virat Kohli is currently at the pinnacle of world cricket. Hailed as the best by many, Virat Kohli climbed above the rest by winning almost all the ICC "Best of the Decade" awards. The 32-year-old won ICC Men's ODI Cricketer of the Decade and he was also felicitated with the Sir Garfield Sobers Award for ICC Male Cricketer of the Decade. The right-handed batsman featured in the playing XI of all the ICC played formats- Tests, ODI, and T20I, captaining the Test side.
Also Read | Former Indian Captain Mohammad Azharuddin Luckily Escapes Unhurt After Car Accident In Rajasthan
Rohit Sharma sends his wishes to Virat Kohli
Almost everyone from the cricketing fraternity congratulated the Indian superstar for his latest accomplishment. Indian batsman Rohit Sharma also extended his warm regards to toast Virat Kohli on his massive success. With this, Rohit Sharma washed away all the rumors of a feud between the two dignities of Indian cricket. Indian fans were seemingly happy to see their vice-captain clearing all the doubts of alleged bad blood between him and his gaffer.
Earlier this week, the official handle of the Indian Cricket Team uploaded a post while congratulating Virat Kohli on his recent feet. Rohit Sharma, who has featured in ICC's ODI and T20I playing XI of the decade, left a comment on the congratulatory comment of the post. The comment read "Great achievement".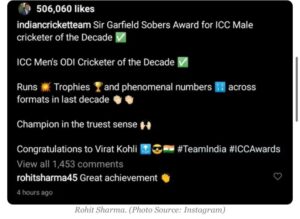 Also Read | "Virat Is More In Your Face, Ajinkya Is Quite Prepared To Sit Back Calm": Ravi Shastri
What happened between Virat Kohli and Rohit Sharma?
Many rumors were suggesting a recent bicker between Virat Kohli and Rohit Sharma. The speculations became strong when Rohit Sharma was declared unfit for on-going India's tour of Australia, where at the same time the 'hit-man' continued playing for the Mumbai Indians in the latest edition of the Dream11 Indian Premier League. The matter became worst when Virat Kohli stated that he had no idea no why Rohit didn't travel with the Indian team to Australia.
Nevertheless, Rohit Sharma's recent gesture made it evident that those were just hearsay and everything is well between the two legendary Indian batsmen. While Virat Kohli has left the Indian squad after applying for paternity leave, Rohit Sharma has been included in the Men in the Blue squad for the third Test against Australia in Sydney.