After the thrilling ICC world cup final, New Zealand and England players have moved up in the ICC Men ODI Player rankings. In the latest ranking, they have updated players performances from the semi-final and the final match.
New Zealand Skipper and player of the tournament Kane Williamson has reached his career personal best of 799 points after a match-winning knock of 67 in the semi-final against India. And Ross Taylor ended with his career-best of 841 points.
And English All-Rounder Ben Stokes has ended with his career-best of 694 points and making a spot in the top 20. And Jason Roy has made it in the top 10 for the first time.
Indian All-rounder Ravindra Jadeja who had an outstanding knock of 77 in the semi's against New Zealand has lifted him 24 places to 108th position. And the Ex Aussie Captain Steve Smith has reached to 29th position from the 32nd spot.
Lets din into the bowling section
In the Bowling department, Jofra Archer has a steady climb in his career and reached the top 30 for the first time. Matt Henry has entered into the top 10.
Chris Woakes has reached his career-best with 676 points and settled at 7th place. Shakib is leading the all-rounder department.
In the rankings for bowlers, Chris Woakes's efforts of three for 20 in the semifinal and three for 37 in the final have lifted him to a career-best 676 points and seventh place, just behind the sixth position he reached in April 2017.
Here are the latest ICC Team Rankings:
| | | |
| --- | --- | --- |
| Rank | Team | Points |
| 1 | England | 125 |
| 2 | India | 122 |
| 3 | New Zealand | 112 |
| 4 | Australia | 111 |
| 5 | South Africa | 110 |
| 6 | Pakistan | 97 |
| 7 | Bangladesh | 90 |
| 8 | Sri Lanka | 79 |
| 9 | West Indies | 77 |
| 10 | Afghanistan | 59 |
Batting Ranking: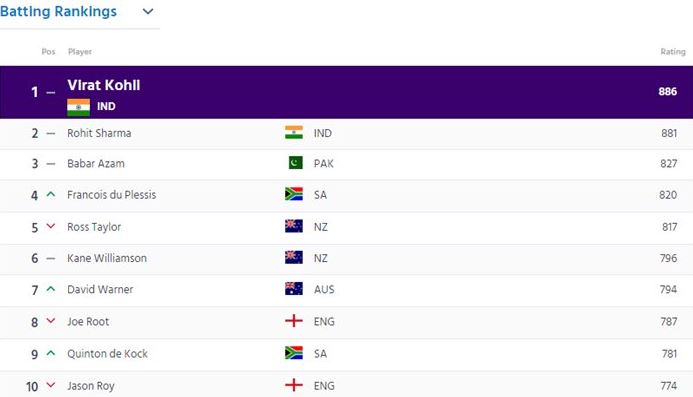 Bowling Ranking: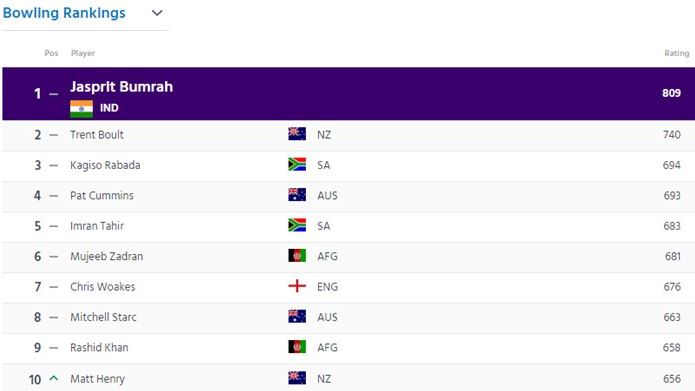 All-Rounder Ranking: