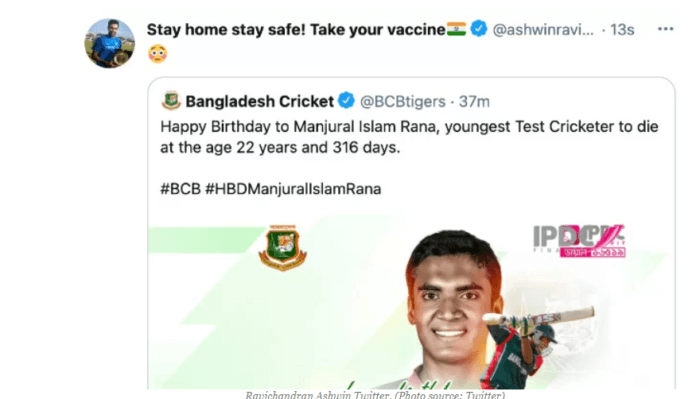 Bangladesh lost to Sri Lanka by a huge margin of 209 runs in the second Test match. Srilanka took advantage in the very first innings by scoring 493 runs and dismissing Bangladesh Squad under 252 runs. Srilanka managed to win the match easily later and clinched the series 1-0 with Dimuth Karunaratne as their Player of the series after scoring 428 runs in 2 Test matches.
Bangladesh Cricket Board's Twitter handle has been busy lately in updating the latest activities of Bangladesh Cricket. on May 4 (Tuesday), the BCB took to Twitter and wished Late Manzarul IslM anzarul am Rana on his 37th birth anniversary. Rana made his debut as a 19-year-old prospect in 2003.
Remembering the late cricketer on his birthday anniversary, the BCB posted a tweet on their official handle on Twitter. BCB took to their official Twitter handle and came up with a bizarre tweet that took everyone by surprise.
"Happy Birthday to Manjural Islam Rana, youngest Test Cricketer to die at the age 22 years and 316 days," the BCB wrote on Twitter. The tweet went viral in no time on social media platforms.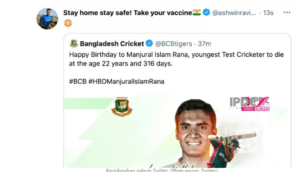 Strange Tweet Made By BCB Comes In Shock For Ravi Ashwin And Twitter Users
Twitter users found a bizarre aspect of the tweet and asked the BCB to delete the tweet as it didn't seem in good taste. Indian spinner Ravichandran Ashwin too found the wish a surprising one and additionally left shocked as he reacted with the suitable emoticon.
Following backlash from netizens, BCB took down the post and came with a more sensible one for the occasion. Later, BCB deleted their previous tweet and posted a new tweet. "Happy Birthday to Manjural Islam Rana. They one of the Greatest Tiger we ever had. #BCB #HBDManjuralIslamRana," BCB wrote.
Qazi Manjural Islam was a Bangladeshi cricketer who played six Tests and 25 One Day Internationals for Bangladesh. On 16 March 2007, he died of severe head injuries sustained in a road traffic accident at the age of 22. The accident happened when his motorcycle collided with a microbus and then hit an electrical pole at the side of the road.
Also read: BCCI Looking At September Window For Completing The Season