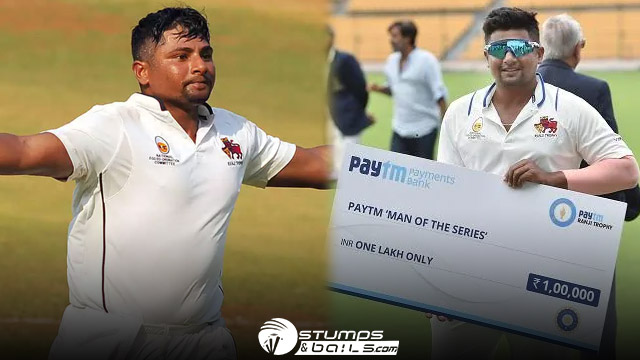 Mumbai's Sarfaraz Khan was named "Man of the Tournament" for his outstanding Ranji Trophy 2022 performance, during which he scored 982 runs.
Sarfaraz finished his Ranji Trophy 2022 campaign with 982 runs scored in six games at an average of 122.75. The batter recorded four centuries and two half-centuries throughout the season, with a top score of 275.
The right-hander scored a much-needed century in the first innings of the final match between Mumbai and Madhya Pradesh to keep Mumbai in the game. However, after the 5 days interesting battle Madhya Pradesh beat Mumbai to win their maiden title.
Sarfaraz Credits His Father
After receiving the award of Ranji's best player, Sarfaraz thanked his father and said that he is just looking to stay for longer hours in the wicket.
"Credit to my father who is standing there. I am just trying my best to stay at the wicket, and score runs. I try to play as many matches as possible and stay on the ground and prepare in the same way"
Khan then talked about his dream to score a century in the final for Mumbai.
"You all know the roller-coaster ride I've had. If not for my father, I wouldn't have been here. When we had nothing, I used to travel with my father in trains. When I started playing cricket, I dreamt of scoring a century for Mumbai in the Ranji Trophy. That was fulfilled," he said.
MP Vs MUM Match Summary:
After winning the toss Mumbai scored 374 runs in the opening game. They were unable to restrict the MP batters, who put 536 on the board and went on to lead Mumbai, the six-time champions, by 162 runs.
Mumbai in reply, only managed to post 269 to give MP a 108-run target, which they chased with ease to win maiden title.
Top Scorers and Top Wicket Takers In Ranji Trophy 2022
Rajat Patidar of Madhya Pradesh scored 658 runs in 6 games at an average of 82.25 to claim second spot as batter. He has smashed two centuries and five half-centuries during the tournament.
Nagaland's Chetan Dinesh Bisht (623 runs) Yash Dubey of MP (614 runs), and Shubham Sharma (608 runs), are among the tournament's top batters from the 2022 edition (608 runs).
Shams Mulani of Mumbai took the most number of wickets in the prestigious tournament. The Mumbaikar took 45 wickets in 6 games at an average of 16.75 and an economy rate of 2.90.
Kumar Kartikeya of MP, who took 32 wickets claimed second pace. In six games at an average of 21.00 and an economy rate of 2.27.