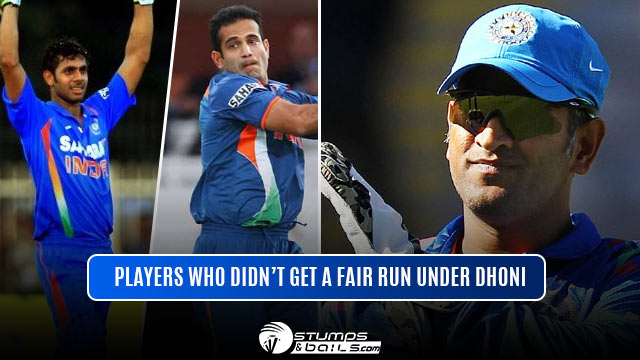 Mahendra Singh Dhoni is arguably the most celebrated skipper. There isn't a title that Dhoni as a leader hasn't won. It started with him leading a young side to T20 World Cup glory in 2007. Dhoni took India to the top of the Test rankings in 2009. He led CSK, his IPL team to four IPL titles.
MS Dhoni brought the World Cup home in 2011, 28 years after India first won the title. In the process, he backed several players to the hilt. But there were few players who didn't get a fair chance under MS Dhoni.
We look at a few such players:
#3 Manoj Tiwary
He was one of the domestic giants who kept toiling tirelessly. Manoj Tiwary finally got a chance to play for the country in 2008. But Tiwary hardly got a fair run. The most striking image of Tiwary's career remains a searing Yorker from Brett Lee that destroyed his stumps.
Tiwary had a good run of scores whenever he got an opportunity. He smashed a century walking in at 1-2 in the game against West Indies. Tiwary had a fine all-round series against Sri Lanka in 2012. But his stop-start career never flourished under Dhoni's captaincy reign.
#2 Irfan Pathan
He was one of the poster boys of Indian cricket in the 2000s. Irfan Pathan was once in a generation talent. He picked up 9 wickets in an innings in a domestic game. Pathan burst onto the scene during the Australian tour. He picked up key wickets of Adam Gilchrist and Steve Waugh with searing in-swing Yorkers.
His batting was an added bonus. He made multiple comebacks, the highlight being his player of the final performance in the 2007 T20 World Cup. But under Dhoni, Pathan could never get the opportunities that could transcend his career to the next level.
#1 Abhishek Nayar
His career largely coincided with MS Dhoni's captaincy tenure. Abhishek Nayar was one of the leading allrounders in the domestic circuit. Nayar bowled the crucial overs providing breaks to regular bowlers. He had the knack of picking up crucial wickets. Nayar was a stubborn batsman who always put a price on his wicket. His doggedness earned him heavy praise. But for all his capability, Nayar played 3 ODIs bowling all of just 3 overs and a zero not-out remains his highest score. Dhoni it seemed was never sure of his all-around abilities.