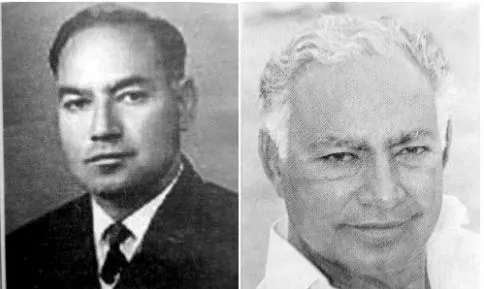 On this day back in 1921, Pakistan's first Test centurion Mr. Nazar Mohammad was born in Lahore, Punjab. He has played only 5 Test games and all of them were in Pakistan's inaugural series against India, in 1952-53.  He has anchored innings for Pakistan and made an unbeaten knock of 124 where he made sure that his team was on the winning side.
Nazar Mohammad Was Pakistan's First Centurion in Test Cricket
He is a right-handed batsman and was the first player to face the 1st ball in Test Cricket and also the first player to hit a hundred for Pakistan. He has played a very important role in Pakistan Cricket and he is also the first player to carry the bat throughout an innings with a win.
He has played a total of 45 First-class matches and scored 2,739 runs at 41.50 with 8 hundred and caught 40 catches. Out of 45 games, Five of these matches were Tests, in which he scored 277 runs at an impressive strike rate of 39.57.
After the Independence in India, Nazar and his family moved to Pakistan – When West Indies toured India during 1948-49 they have made a detour of Pakistan, in which Nazar has scored 87.
Nothing has stopped from scoring runs consistently and finished 1951-52 with four 427 runs at 61.00 scorings two hundred in 1951-52.
After his playing career, he went on to become National Coach and a National Selector in Pakistan cricket. And during those days he was also known as "one of Pakistan's best cricketing raconteurs". Even his son Mubashir has played his First-Class cricket for the Income Tax Department and Lahore B, and it was his other son Mudassar who went on to become the finest cricket of the family.
Mudassar Nazar's batting style was very similar to his father's – Many of the former players has referred to Mudassar as "Nazar Mohammad" on All India Radio. His son Mudassar has followed his father's steps and also carried his bat through an innings where he has played for almost 495-minutes and made 152 against India at Gaddafi. And with this achievement, they have become the only father-son pair to carry their bats through completed Test innings.
This legend was passed away on July 12, 1996, and the Pakistan Cricket Board (PCB) has honored the members of Pakistan's first Test side. And as a result, Nazar's family has received a posthumous medallion, a 250,000 rupees cash prize, and the green Pakistan blazer.