PAK vs ENG T20 World Cup Finals
After West Indies England become the second team to win the T20 World Cup twice
PAK vs ENG T20 World Cup Finals: England won the T20 World Cup 2022 for the first time 12 years ago in 2010 and they have done it again this time around by beating Pakistan by 5 Wickets to become the two-time T20 World Cup Champions.
King of the white ball of cricket, England become the first team to win the ODI World Cup and T20 World Cup.
With three early wickets, Buttler's being the biggest of them all, Pakistan did well to fight, but Naseem's expensive performance didn't help their cause. Despite Pakistan's potent bowling arsenal, it wasn't enough to match England's depth in the batting order given the small total.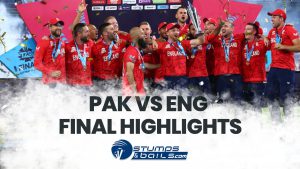 PAK vs ENG: Game-Changing Moment
Shaheen Afridi in the process of taking the catch of Harry Brook injured him again. He was taken out of the field for a couple of minutes but he came in the 16th over he tried bowling but he could only bowl one ball and left the field heads down with pain and sadness that he won't be able to bowl his final two overs.
Afridi picked up 2 wickets in his 2 overs which he bowled and conceded only 13 runs. But it was unfortunate that England got lucky as they did not have to face Afridi in the final few overs.
PAK vs ENG: Early on in the Innings
Pakistan managed to score 18 runs in the final four overs while losing only four wickets. The partnership between Shan Masood and Babar Azam, which added 39 runs to the inning, was the highest of the innings.
Buttler was taken out for by Rauf then Shadab begins by tidying up. Wasim then started to scatter it, but he limits it to seven runs. Stokes scores four times in a row, and the streak is long. Brook holds off a run-out opportunity.
Early departures by young Haris and Rizwan allowed Babar and Masood to forge a partnership. But when Adil Rashid destroyed it, Pakistan was unable to form any more lasting coalitions. Jordan made sure Mark Wood wasn't missed, but Rashid and Curran in particular stood out as they combined for five wickets. All of England's bowlers were excellent.
PAK vs ENG: England Innings
Rauf gets the big wicket of Buttler. Shadab starts with a tidy over. Wasim sprays it around but keeps it to 7 runs. Stokes gets his first four and it is a streaky one. Brook survives a run-out chance.
Skipper Jos Buttler played a quick 26 runs off 17 balls before getting dismissed by Haris Rauf in the 6th over. After 2015, they have transformed into a formidable power. After being victimised by Carlos Brathwaite at Eden Gardens in 2016, Ben Stokes has the opportunity to atone. Six years later, after losing a T20 final with the ball, he now prevails with the bat.
PAK vs ENG: Masterclass Innings
Ben Stokes certainly did it again like he stood tall in the previous ODI World and now he has done it again. Ben Stokes played more like a mature player, he took the game into deep waters. His knock of 52 runs made sure that England became the T20 World Cup.
Player of the Match & Tournament 
Sam Curran win the player of the match for his five-wicket spell to restrict Pakistan to a below-par-score 137. He played a key role in one of the biggest matches in the world of cricket. This will give him a big boost going into his future. He even received the Player of the tournament for his amazing 13 wickets he took through the T20 World Cup.
PAK vs ENG: It's Just the Beginning of England's Dominance in the white ball cricket
England has shown in these two years that they now are the dominant side in the game of cricket. The way they are planning, the way they are playing, and the way they are showing courage are what make a difference. This England side is just starting its journey with one ODI World Cup and one T20 World Cup the journey is yet to be completed as they will be eyeing to win the next ODI World Cup in 2023 in India.