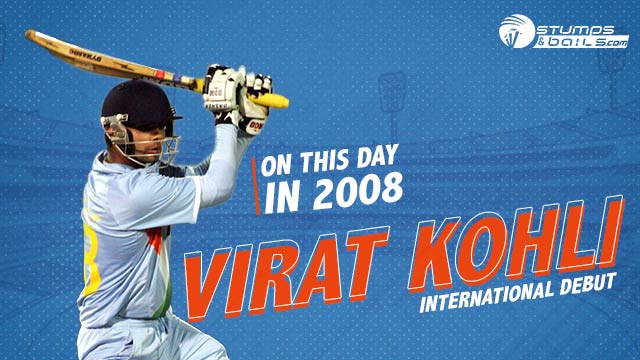 Exactly fourteen years back, on this day, one of the most iconic batters of the modern era, Virat Kohli made his International debut for India. On 18 August 2008, the then 19 years of age, stepped out to play in blue for the first time against Sri Lanka in Dambulla.
At the time, nobody could have foreseen how big of a player Kohli would become, and despite all the odds during his journey so far, he has continued to blossom.
It is the existence of his never lose hope attitude and self-belief that made his fans call him – King Kohli – of cricket. He was at the top of the ICC rankings when he was crowned King Kohli and remained there for three straight years in 2017, 2018, and 2019.
He is the first Indian captain to triumph over Australia in Australia in test series. The first skipper to defeat and sweep New Zealand in the series at their home. All of these elements together with Virat's tyrannical demeanor earned him the moniker "King Kohli."
Virat Kohli's debut match 
Coming to Kohli's debut match, the Delhi batter could only muster 12 runs from 22 balls, including a four. India faced a defeat in that match by eight wickets.
Since then, he has amassed over 23,000 runs for his country, including 70 centuries, and broken various records in the process.
To commemorate the day he first entered the international stage, Kohli posted a montage of the star batter's most well-known photos on social media.
"14 years ago, it all started and it's been an honor," Kohli captioned the post.
14 years ago, it all started and it's been an honour 🇮🇳https://t.co/qJSxhWtTV3

— Virat Kohli (@imVkohli) August 18, 2022
After leading India to the U-19 World Cup victory in 2008, Kohli quickly gained recognition on the international stage.
Later, in June 2010, he made his T20I debut, and in June 2011, he played in his first Test match.
Kohli has participated in 102 Tests, 262 ODIs, and 99 T20Is so far. While he has scored 27 hundred and 8074 runs in Test matches. He has smashed 12344 runs, including 43 hundred in one-day internationals.
In the shortest format of the game, Kohli has amassed 3308 runs with 30 half-centuries.